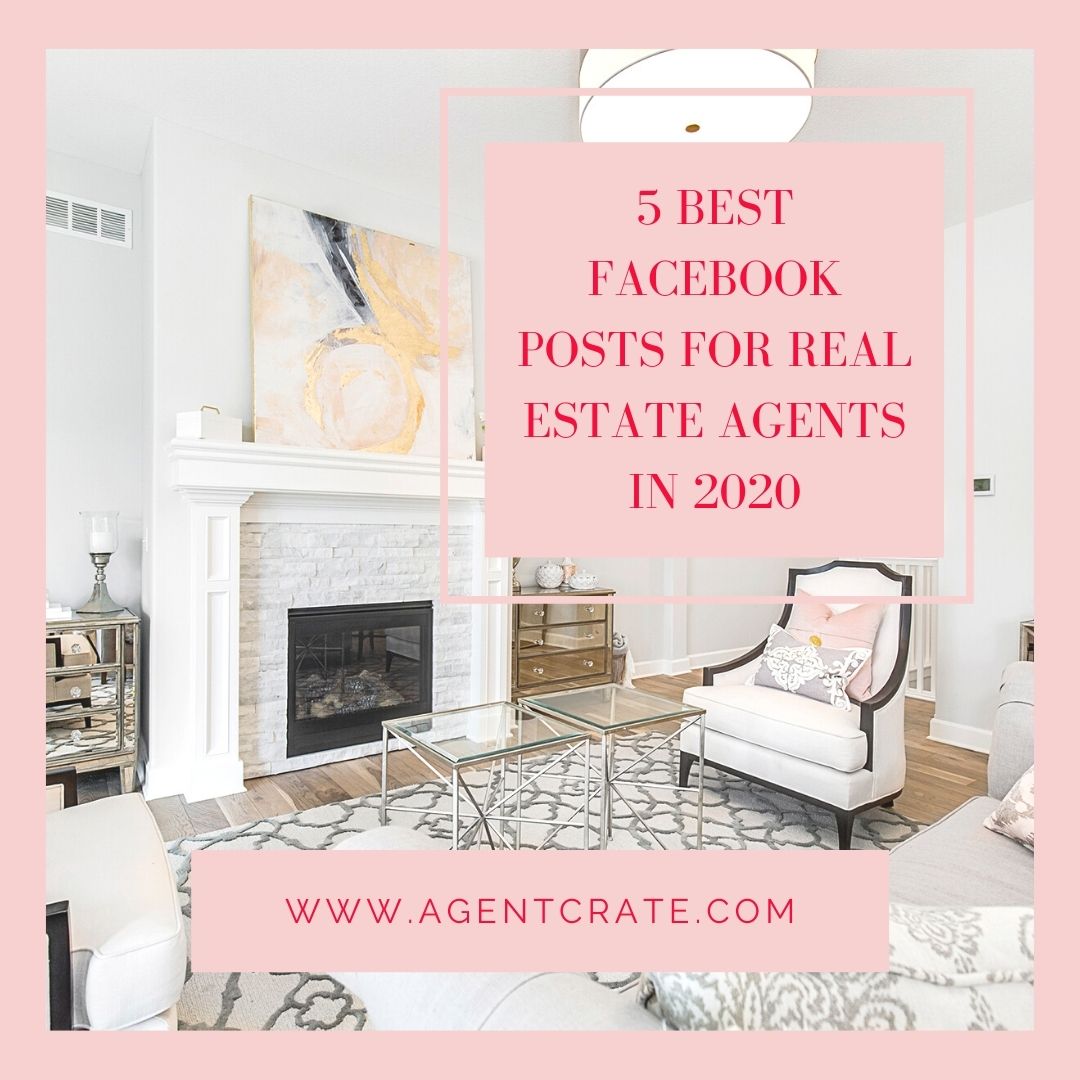 24 Apr

5 Facebook Real Estate Lead Generation Strategies that really work

As every professional real estate agent knows, lead generation is critical to growing a successful business. More and more, the focus of lead generation is increasingly internet-focused. Studies show that most homebuyers and sellers utilize online tools to research their options before contacting an agent. Maintaining exposure to these potential buyers requires not just a website and blog, but having a social media strategy as well, and the best platform for lead generation is Facebook. Facebook offers a wide variety of marketing options for real estate agents, many of which are completely free.

The biggest advantage Facebook has over other online marketing is the ability to target your audience. It is simple to create an effective Facebook page and build targeted ads that showcase your services in front of the right viewers—those who are likely to need real estate help from you. In this guide, we will walk you through the various Facebook strategies you can put into practice immediately to start finding great real estate prospects.
1- Create the Perfect Business Page
Your Facebook page is still one of the most important components of your online branding strategy. This is your anchor on Facebook and the key gateway to your website and blog. Creating a Facebook page for real estate agents is fairly simple and there are a few must-have items it should include:
• Profile Picture – Your headshot should project your confidence while still being approachable.
• Cover Photo – The cover photo should be attractive and eye-catching while clearly directed towards your target audience. For instance, if you specialize in downtown condos, a beautiful skyline photograph would appeal to your target client. Consider adding text to your picture with your brand name or slogan. Another interesting option is a slideshow or video showcasing multiple options.
• Tabs – Facebook gives us the ability to add tabs to Facebook pages for additional information. Some suggestions for tab categories are:
o About Us
o Home Search Map
o Video
o Events
o Community
o Services
o Photos
o Blog Posts
• Call-To-Action – Throughout the page should be call-to-action items and links to your personal website and CRM system. To prod engagement, offer a free market analysis, seller or buyer guide, and home inspection checklist.
• Facebook Messenger Autoreply – Similar to other chatbots, Facebook allows you the ability to initiate a Messenger chat with your visitors.
2- Joining Groups
Now that you have a Facebook page, the next step to lead generation is joining and participating in groups. There are Facebook groups for almost any interest you can imagine. As a real estate agent searching for leads, groups are a great way to engage with your target audience.
Finding Lead Generation Groups
Brainstorm ideas surrounding topics that pertain to real estate generally and your farm area specifically. Look for local groups such as neighborhood watch, local events, children sports clubs, school groups, and local 'Swap & Shop' sale sites. You can also find groups dedicated to specific housing developments in your area, local or future residents might turn for information and engagement.
There are groups for specific interests as well. For instance, if you specialize in waterfront properties, search for groups that cater to boat owners or water sports in your area. For more specific groups, there are multiple sites which relate directly to real estate, such as 'Miami Condos for Sale' or 'First-Time Homebuyers in Dallas.' Use your imagination and find options that relate to your prospects.
Interacting with Groups
Everyone who has spent any time on Facebook has seen unwelcome listings and open house advertising posts. These are the agents who post their properties over and over again and hope this advertising brings them results. While someone might notice a nice listing, this is not the best way to build your sphere of influence within Facebook.
Genuine participation and offering value are the only ways to create rapport with your online prospects. Your posts should be engaging and offer something the group at large will find interesting. For example, posting a free library event in a community group or a fun kids' activity in a school group shows you are a group member, not just there to find business.
Add new and relevant content regularly on your blog roll and then link to that content on Facebook, driving the reader to your website. For example, an article about the latest spring decor color trends could be posted in a DIY group, or a post which talks about ways to increase your credit score could be posted in a group for first-time homebuyers. Remember, you are offering value to your readers while showcasing your knowledge.
Finally, mix it up! Use video and photography to create appeal. A beautiful drone tour of the lakefront or a slideshow of local historic home exteriors will entice readers to head to your blog to see more—and in the process land on your website where you can demonstrate your local presence and expertise.
3- Creating Relevant Groups
In addition to joining groups already on Facebook, one of the best ways to control your engagement is creating your own group and managing it. Choose a group name which very specifically relates to your farm and manage the content. Consider a group called "Chicago 365" or "Horse Properties in Watertown." Utilize Google Analytics to research your target keywords and use them in the group name and posts.
Once you have created your group(s), invite potential members from your current groups as well as friends and neighbors. You can also use Facebook ads to drive attention to your group. Provide regular content and interact quickly with all new members. Remember that redundant real estate comments and posts are not good uses of your group time—unless, of course, you create or join a real estate specific group—but there you'll have a lot of competition and little opportunity to distinguish yourself.
4- Facebook Ads
Facebook ads are a relatively inexpensive way to add paid marketing to your business plan. Studies show that Facebook has the highest volume of social media usage over the past 5 years, having twice as many users as the second closest site, Instagram. Before you begin, determine what kind of leads you want to attract and how much of your marketing budget you will apply to Facebook advertising. Once you have this in mind, Facebook offers a simple step-by-step procedure to help you with the process:
• Choose Your First Campaign – Facebook requires real estate professionals that are promoting housing to follow the "Special Ad Category: Housing" guidelines. You can use detailed targeting to try to focus on home buyers and sellers, for example: House Hunting for a potential buyer and maybe Home Improvement to get to a current home owner.Within those campaigns, you can choose what to offer as well. For example, you might offer a free first-time homebuyer's guide or a list of local open houses.
• Set Your Campaign Objective – Facebook offers campaign objectives but due to anti-discrimination rules, real estate agents should select "Special Ad Category" and choose "Traffic" as the objective—sending viewers to your Facebook business page for further development.
• Set Your Campaign Budget – Facebook allows you to limit the cost for each campaign; once you reach your preset budget for pay-per-click, your ads cease until/unless you increase your budget, ensuring you do not overspend.
• Create a Target Audience – Facebook gives you multiple options to target the right audience for your ad. You can choose location, language, demographics and interests, and connections.
• Build Your Ad – The ads themselves must attract attention. Remember to be visually stimulating, utilizing video and photography to create impact.
• Add a Call-to-Action – Always include a call-to-action in your ad. Give the viewers an easy way to reach you for more information. Again, offering something for free is the best way to encourage contact from your target audience.
For very little money, you can position yourself in front of your target audience through Facebook ads. Always put yourself in your reader's shoes and ask yourself whether you are offering something of value or interest—is your ad something you would react to if you saw it?
5- Facebook Marketplace
Still looking for a place to post your property listings, rentals, and open houses? Facebook Marketplace is available to you free of charge. Think of this as a free classified section of the platform. Here you can add your services and offers in a pure-play marketing piece.
Conclusion
Social media needs to be a critical component of any real estate agent's marketing strategy. With more and more consumers using social media sites like Facebook to engage with each other, as well as find goods and services they want, having a strong presence is important. Fortunately, properly leveraging this powerful tool is relatively simple to do. By following the process in this guide, you will be able to find and nurture quality leads for your real estate business.