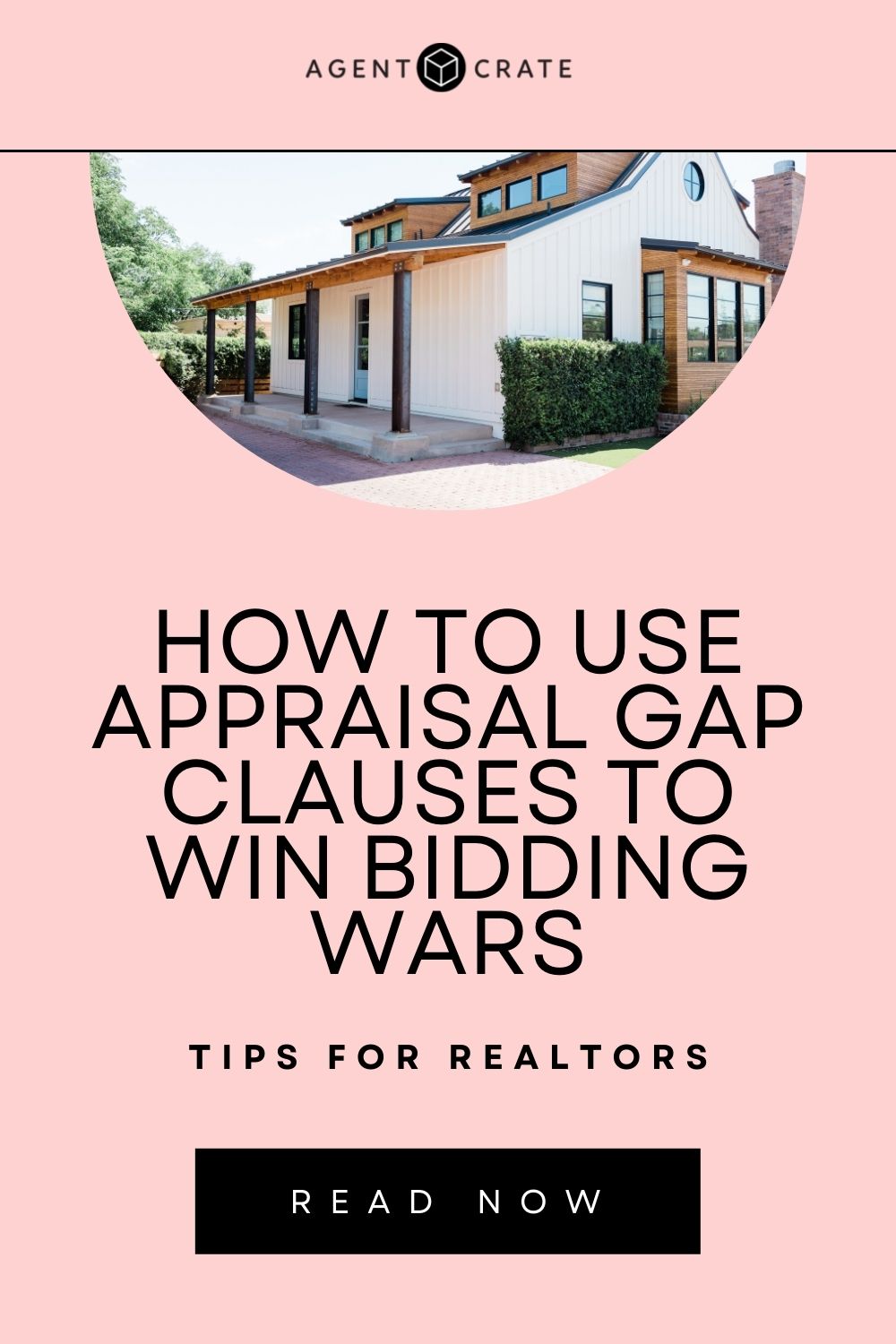 17 Jan

Appraisal Gap Clauses: The SECRET to Winning Bidding Wars as a Real Estate Agent

The housing market is heating up as the spring season approaches. Home values are increasing and listings are becoming harder to find. At this point in time, nothing can be more frustrating for a real estate agent than losing out on a home sale to a competing agent. In times like this, it is essential to have the right tools in your realtor arsenal to win bidding wars as a buyer's agent – enter appraisal gap clauses.

Fortunately for those involved in home sales throughout the country, appraisal gap clauses have been gaining traction as an essential tool for realtors when attempting to win bids. What are appraisal gap clauses? Essentially, they are contract addendums that provide a clause that stipulates the difference in home value and offer will be covered by the buyer.

In other words, when an appraisal is less than or equal to a specific amount of the buying agent's offer price, that difference between the house value and bid price will be covered by the buyer.
Why Low Appraisals Happen in a Sellers Market
There are a variety of reasons an appraisal may come in low even in a hot seller's market.
For example, the property may be a premium property and setting a new high price and there may just be not enough recent comparables to include in the appraisal.
Another reason for a low appraisal can be simply because the appraisal company may not believe that the market has increased that quickly and so the appraiser will not increase the value of a property even if it's clear multiple buyers are willing to pay that price for the property.
In a hot seller's market, sometimes the speed at which values are increasing and demand is increasing doesn't always line up with the available data that an appraiser must pull from. This mismatch may result in a low appraisal.
How can Realtors use appraisal gap clauses to win bidding wars?
A Real-World Example of How Appraisal Gap Clauses Can Win Bidding Wars
Let's say an appraiser values a property at $250,000, while an agent has come up with a list price of $280,000 for a buyer. This leaves an appraisal gap of $30,000 that the buyer is responsible to pay if they want to keep the deal on track. In a case like this, an appraisal gap clause can be a real life saver.
The easiest way for agents and buyers to use these clauses is to make the gap clause part of their purchase offer. In this place, everyone knows where they stand and there are no surprises down the road. It may be wise to include the appraisal gap clause as a separate addendum that can be signed by all parties (buyer, seller, and agent) before signing off on the sale contract.
Here are a few of the most effective and applicable strategies:
1. Raise the offer price by a set percent and add an appraisal gap clause:
If you're competing with other agents who are offering $200,000 for a house that is appraised at $195,000, increase your offer to $205,000 and then include an appraisal gap clause saying the buyer will cover any difference up to $5,000. This makes the offer more attractive to the seller and gives you a better chance of getting it accepted.
2. Provide the seller with proof of funds showing that the buyer has the additional funds that would be needed if the appraisal came in low within the appraisal gap terms.
Example of An Appraisal Gap Clause
Some states have already started including appraisal gap clauses into their addendums. For example, look at the language from this addendum from Texas that addresses the appraisal gap:
If you have questions about appraisal gap clauses or want to learn how you can use them in your next sale, be sure to discuss with your broker and check your states available real estate forms to see if an addendum may already be provided that you can utilize.
Questions to Ask Buyer Before Adding An Appraisal Gap Clause:
Does the buyer have sufficient funds in place to cover the difference between appraised value and purchase price?
Will it be difficult for them to secure a loan and what kind of appraisal contingency can they set up?
What is the likelihood that the appraisal will come back less than the asking price when including the gap clause in the offer?
Ensure Buyer Understands Appraisal Gap Clauses
Be sure to explain the appraisal gap clause thoroughly and make sure your client understands what amount they must pay and how it will be handled. If you encounter any confusion or resistance, consider removing this addendum from your offer.
Keep in mind that an appraisal gap clause is not a guarantee of getting the house, but should at least give you a fairer shot at winning the bidding war.
Final Thoughts
The market is heating up, and buyers need to be as prepared as possible with the right tools to win bidding wars. Appraisal gap clauses can be a major asset when trying to secure a home during this time of year. However, it's important these clauses are used correctly and in accordance with buyer needs. This will ensure you can give yourself an edge over other buyers and sellers in your market.
In conclusion, an appraisal gap contract addendum is a great tool for any real estate agent to have in their arsenal when attempting to win bidding wars and close home sales. In a housing market that is beginning to heat up, when opportunities are becoming more scarce and agents have to fight tooth-and-nail for each sale, this type of addendum can be an asset that makes the difference between winning and losing.
** Make sure to save this blog post to Pinterest to reference later!**