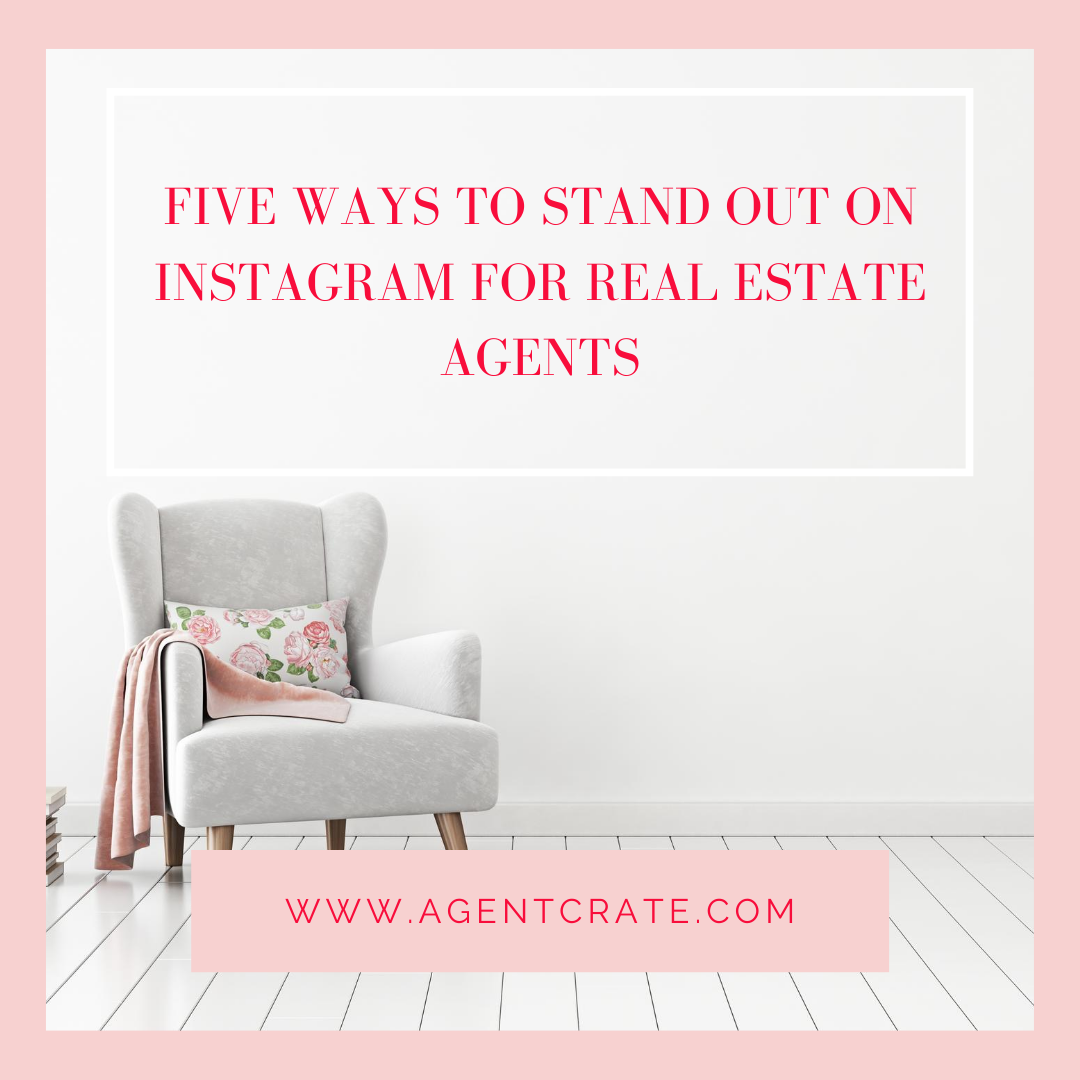 19 Aug

Five Ways to Stand Out on Instagram for Real Estate Agents

Social media: Once a simple and exciting platform to use to share personal photos with family and friends has transformed into arguably the most superior way to advertise businesses.

And with the saturation of brands using social media as a way to advertise (including the rise of real estate agent influencers), that means scrambling to catch up and having to figure out the seemingly, ever-changing algorithms and strategies to market your own real estate business on social media.

Fortunately, it's actually not as difficult as you might think! We put together five ways that are guaranteed to make your real estate business stand out from the crowd online.

Ready to crush the real estate social media game with your brand? Keep on reading.
1. Make an SEO-Friendly Profile on Instagram
Before you get to posting, the very first step is creating an SEO-friendly profile on your real estate Instagram. But don't worry, you don't need to be a seasoned marketer to be able to do this.
This simply means adding relevant keywords you want people to find you through via your Instagram and Facebook profiles. Here are four ways you can do this:
Make Your Instagram Profile Public
OK, it actually doesn't just stop at public because, while making your real estate Instagram page public is the first step, you actually want to turn your account into a Business account.
Having an Instagram Business account means you can connect your Facebook Business Page to your Instagram, which boosts ways in which prospective followers and clients can find your brand.
Switching over also allows you to monitor your insights, such as keeping track of which of your photos gather the most engagement and generate more clicks to your website.
Include Your Main Keyword in your Instagram Display Name
Your Instagram Display Name is the bolded name that comes right after your username. This is crucial because using your main keyword in your Display Name allows you to pop up in searches under words people are searching for that your username doesn't have.
For example, if people search for the keyword "real estate," if your username doesn't have that keyword but your Display Name does, you will still be searchable.
Pro-tip: Plan out your Display Name before changing it. You can only change your Display Name twice in a two-week period.
Use Secondary Keywords in your Instagram and Facebook Bio
Going off of the example above, if your main keyword is "real estate" then you'll want to include other, related secondary keywords in your Instagram and Facebook bio — AKA the other words related to your real estate business that people will search for.
So for example, you could slip in the keywords "home," or "agent" into your bio. Secondary keywords can be thought of as a cushion, perfect for boosting your real estate social media profile and exposing it to prospective clients and followers who don't search for your primary keyword.
Pro-tip: You can use hashtags and tag other accounts to increase your exposure on Instagram. It's best to keep your profile consistent across platforms.
Use Keywords in your Real Estate Social Media Posts
Yep, even your real estate instagram or Facebook posts can serve as a keyword gold mine! When people Google for certain keywords, your Instagram or Facebook post could pop up as a search, so it's important to be smart with your captions as well as your hashtags.
Sounds like a lot of work? It definitely can be overwhelming if you're new to the social media game. Luckily here at Agent Crate, we can help you market your online brand, as well as provide real estate Instagram and Facebook posts with minimal effort on your end with one of our real estate social media plans.
2. Mix in Lifestyle Content
Lifestyle content just means creating a story with the photos you post. It's one thing to post a photo of a living room from one of your listings, and another to frame your photo to showcase the living room plus the view out the window and create a caption of the lifestyle perks of owning the property as well.
Creating a whole ambiance like this can put your followers (and potential buyers) in the scene, allowing the opportunity for them to imagine themselves chilling on the couch while gazing out the window towards the beautiful view.
Just like in person, as a real estate agent on social media, your goal is to show your audience spaces they can imagine themselves living in. It just takes a little extra creative planning.
It's also beneficial to be diligent with research in order to keep up with what's trending on the market and highlight those trends as you post.
*Pro-tip: Take the time to edit your photos. Hire a professional if needed, but remember that quality is always supreme when attracting viewers to your real estate social media sites. They're visual platforms after all.
3. Utilize Facebook and Instagram Stories
So, you've nailed down mixing in some lifestyle-like content, showing your audience a bigger glimpse into your listings. But how do you show them the full-picture without spamming your feed?
This is when Instagram and Facebook Stories come in handy!
Stories are treated more casually than posts in your feed, so this is the perfect tool to use to connect with your audience on a deeper level by injecting a little of your own personality into them and even some BTS-content (behind-the-scenes).
Don't put so much pressure on yourself to create beautiful, perfect stories — if you're genuinely excited about the real estate content you're producing, your audience will get excited with you. Not to mention, this type of content will also foster trust between you and your followers.
Pro-tip: Take advantage of the stickers available on Instagram and encourage people to engage with your content! This will create even more of a personal connection between you and your followers, as well as anyone else who stumbles across your feed.
4. Engage, Engage, Engage!
Expanding from the point above, remember that while it's important to engage on your own social media platform, don't forget to branch out of your own profile bubble and engage with other people's posts. This can be other real estate agents, new homebuyers, DIYers, home-owners-to-be, and anyone in between.
Engaging is important because it will get your name out there. The more you can comment, reach out via DM, and like posts, the more people will start to recognize your name and consider you a prominent and knowledgeable figure within the niche of real estate.
5. Create a Social Media Schedule for Your Real Estate Posts
Having to plan out every single post, every single day can suck up a lot of your time — time you could be using taking care of other aspects of your real estate business. That's why having a social media calendar to go off is so valuable since it takes care of all that tedious day-to-day planning that most of us don't have time for.
An example of how to plan out a real estate social media calendar is by scheduling out themes on certain days — so Sundays could be about an open house, Tuesdays showcasing a client testimony, and Thursdays about design tips. This kind of structure is great to organize your real estate Instagram and Facebook post ideas.
Don't know where to start? Grab our sample real estate social media calendar to help you get started.