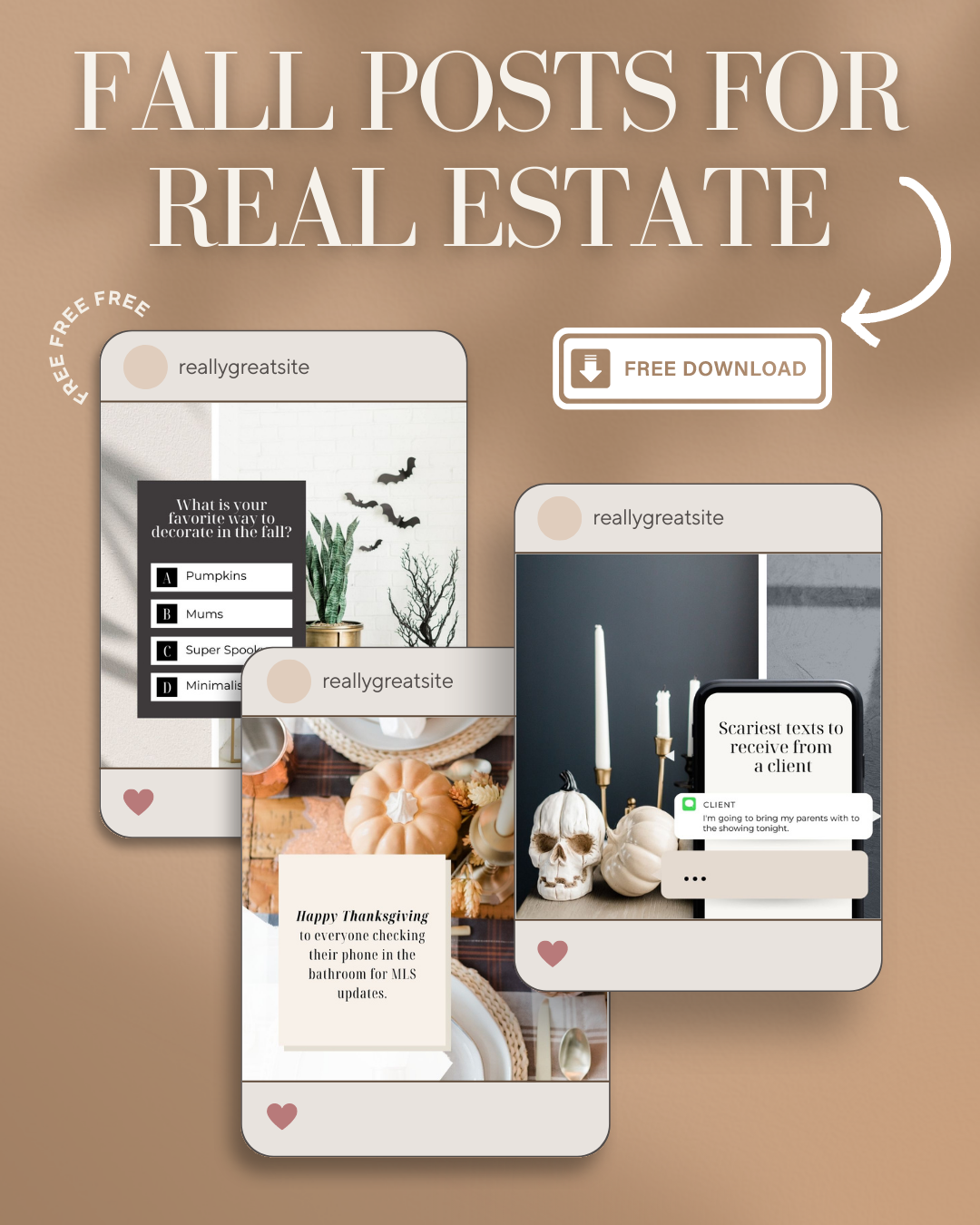 13 Oct

The Best Fall Real Estate Posts + Free Download

The changing seasons are an excellent opportunity to boost business if you're running a real estate blog or social media account. This is especially true for fall, which kicks off the holiday season with Halloween and Thanksgiving, followed by Christmas and its annual traditions.

In this post, we rounded up some handy tips to help you take advantage of the festivities and generate some spark for your fall real estate posts. These tips will increase traffic to social media pages to help bring in revenue during the season of pumpkins, candy corn, and falling leaves!

Let's get started.
Fall Real Estate Posts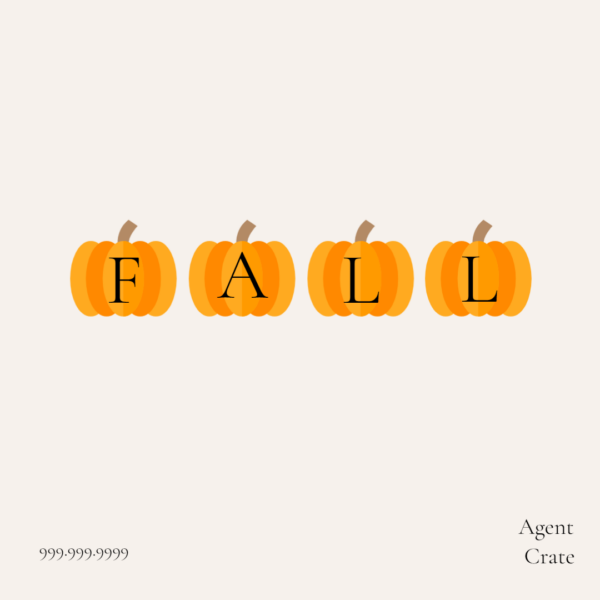 It's no secret that gaining followers on your social media boosts the popularity and name recognition of your business. Yet, to truly harness the potential of this medium, you should know that not all your posts have to be directly related to real estate.
Seasonal posts are the perfect opportunity to get your name out there and get people to follow your account. You can do this by posting interactive content, like:
Yay or Nay
"Yay or Nay" posts don't just belong on fashion influencer pages. You can also use them as an opportunity to engage your audience in a fun little game.
First, find photos of some fall-related items. Next, post each one on your Instagram stories with a "Yay or Nay" poll.
On the last slide, ask your audience to follow, like, or comment. Then, create a whole series of them, then use your Instagram posts to further promote your page.
Here are some examples to get you inspired:
Candy corn
Hayrides
Pumpkin spice lattes
Flannel shirts
Haunted houses
Horror movies
Ugg boots
Bonfires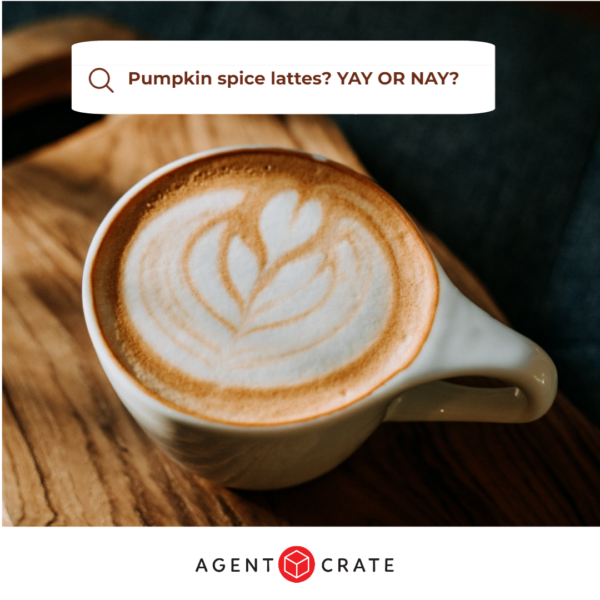 The engagement will grab people's attention, but it'll also let the Instagram algorithm know your content is promotable. Who knows? You might even get a few hundred new followers thanks to those posts.
Local Fall Activities
People want a local realtor who knows the area really well. To show off your knowledge, gather a list of seasonal activities in your area, arrange them into a beautiful calendar, and post them on social media.
Things like apple picking, pumpkin patches, haunted houses, and hay rides are all part of the fun fall festivities. People looking for something cool to do in the area might just stumble upon your posts, helping you generate new business.
To tie this in with your business, you can contact the hosts for the events and ask for permission to set up a booth. There, you can greet prospective clients, show off your business savvy, and hand out business cards.
House-Viewing Horror Stories
A great way to set off the spooky season is to create a series of horror stories that have happened to you or someone you know while buying or selling a house.
This is a bit tricky because you don't want the stories to be too graphic or disturbing so that they scare off prospective clients. Instead, try to keep them lighthearted and funny. You can even offer valuable advice that they can use when viewing houses.
Examples of this would be:
Going to an open house early in the morning and inadvertently walking in on the owner.
Dropping a house key in the toilet right before a viewing.
Showing some clients a house as a bat flies out of one of the rooms.
All of those things can register as funny or embarrassing but non-threatening. You can also reassure your prospective clients that none of those things would happen to them if they chose you as their real estate agent.
Office/Home Decoration Reels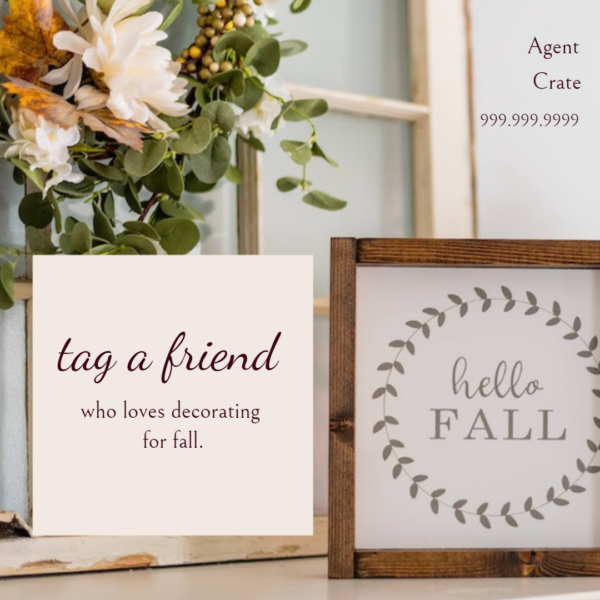 Part of what makes the fall season feel festive is all the beautiful orange, rust, and brown-hued decorations. They make the season stand out from the long, sweltering days of summer, as well as put you in a great mood to usher in the holidays.
That's why you should post at least one Instagram Reel of you decorating the office or a corner of your home. You can use the time-lapse feature on your iPhone or a time-lapse app on Android.
You can also use this chance to create a competition or sweepstakes on your page. Just ask a simple question, like how many pieces of decoration were used.
Then, tell anyone who wants to enter the competition to like the post, follow the page, and tag a couple of their friends.
Real Estate Blog
If you keep a business blog, you know that your readers follow it to get valuable advice about various useful topics. Again, they don't have to be strictly real estate-related, but you can add a call to action at the end of each one that ties in with your business.
Home Maintenance for the Fall
This blog post has tremendous value for those who just bought their first home and would like ideas about how to maintain it. For example, tips on cleaning rain gutters, raking leaves, lawn care, and random tidbits about home maintenance can significantly boost interaction and get your name out there.
Home Decoration Ideas for Halloween/Thanksgiving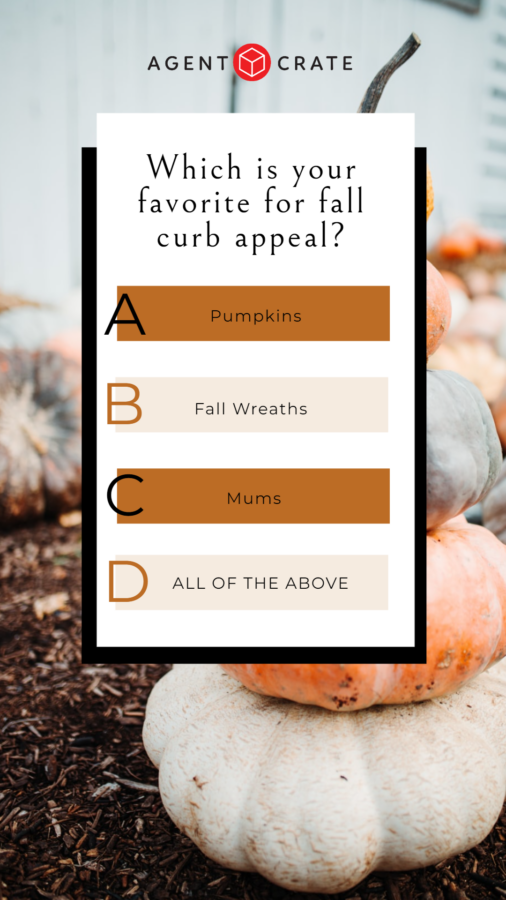 This is a fun little post idea that can attract viewers to your blog like crazy! Find inspirational pics on Pinterest, or just take your own. Then, write up a few home decor ideas for your blog.
Halloween decorations can either lean on the cutesy side or they can be haunting and creepy. So, make sure to offer ideas for both and ask the viewer to pin their favorite look or comment on the blog post with more ideas.
As for Thanksgiving, you can offer decor tips for rearranging furniture to accommodate a larger crowd. You can also write about other home entertainment ideas to try for your Thanksgiving dinner.
To Wrap Up
Fall real estate posts are an amazing opportunity to get your follower numbers up. The best part is that these posts don't have to be about real estate only.
You can easily branch off into other seasonal festivities and local activities to make the most of the season.
Interactive posts are another great way to get people involved and invested in following your business. Plus, you can also create sweepstakes and competitions for followers.
Whether on your social media pages or your blog, these ideas will help you make the most of the fall season and try to direct attention to your business.
P.S. If you're ready to bring your real estate marketing to the next level and attract your ideal real estate client, be sure to check out our REAL ESTATE MARKETING PLANS to save you tons of time on your social media marketing! 
Did you enjoy this article? You might also enjoy reading our articles about: