13 Apr

WEEKLY MARKETING Q & A – CAN YOU SHARE SOME PROMPTS TO HELP WRITE CAPTIONS FOR REAL ESTATE POSTS?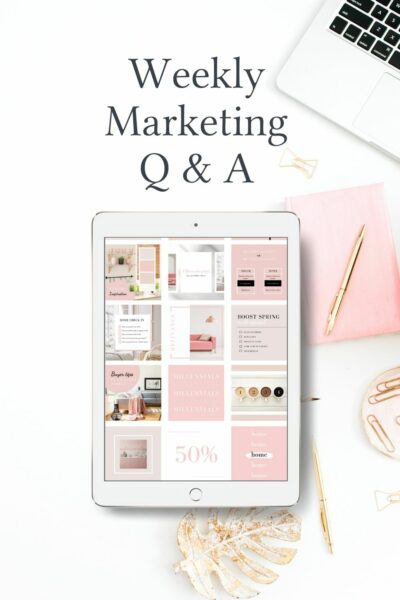 Q: Can you share some prompts to help write captions for real estate posts?
A: If you're looking for a way to add some extra creativity to your real estate social media posts, using prompts is a great option! By coming up with creative and thoughtful responses to prompts, you can easily create captions that will engage your followers and make your posts more interesting. Plus, using prompts can help you come up with ideas for posts when you're feeling stuck. So next time you're scrolling through your feed, don't be afraid to try out a prompt or two!
Here's eleven quick prompts to get you started:
1. Share why you started your real estate business.
2. What's your favorite thing about your job?
3. What's the best piece of advice you've ever received?
4. What would be your dream home?
5. Tag a fellow real estate professional that you admire and explain why.
6. What drives you to succeed in real estate?
7. What are some of the unique aspects of your real estate business?
8. Let your clients and customers know what you are up to!
9. Get personal – let your followers know a little bit about you!
10. What are some of your favorite properties that you have listed or sold?
11. Give a shout-out to someone who has made your real estate business possible!
There are endless possibilities when it comes to using prompts to create captions for social media posts – so get creative and have fun with it! Whether you're looking to add some extra personality to your posts or you're simply stuck for ideas, prompts can be a helpful tool. So next time you're scrolling through your feed, don't be afraid to try out a prompt or two!
Or better yet, join Agentcrate so you'll have access to expertly written captions ready for you to make your own and use in your social media!
Become a member and access today. Learn more here: Agentcrate Membership Plans
Want some free real estate marketing content on us? Download a FREE WEEK OF SOCIAL MEDIA TEMPLATES + CAPTIONS BELOW!