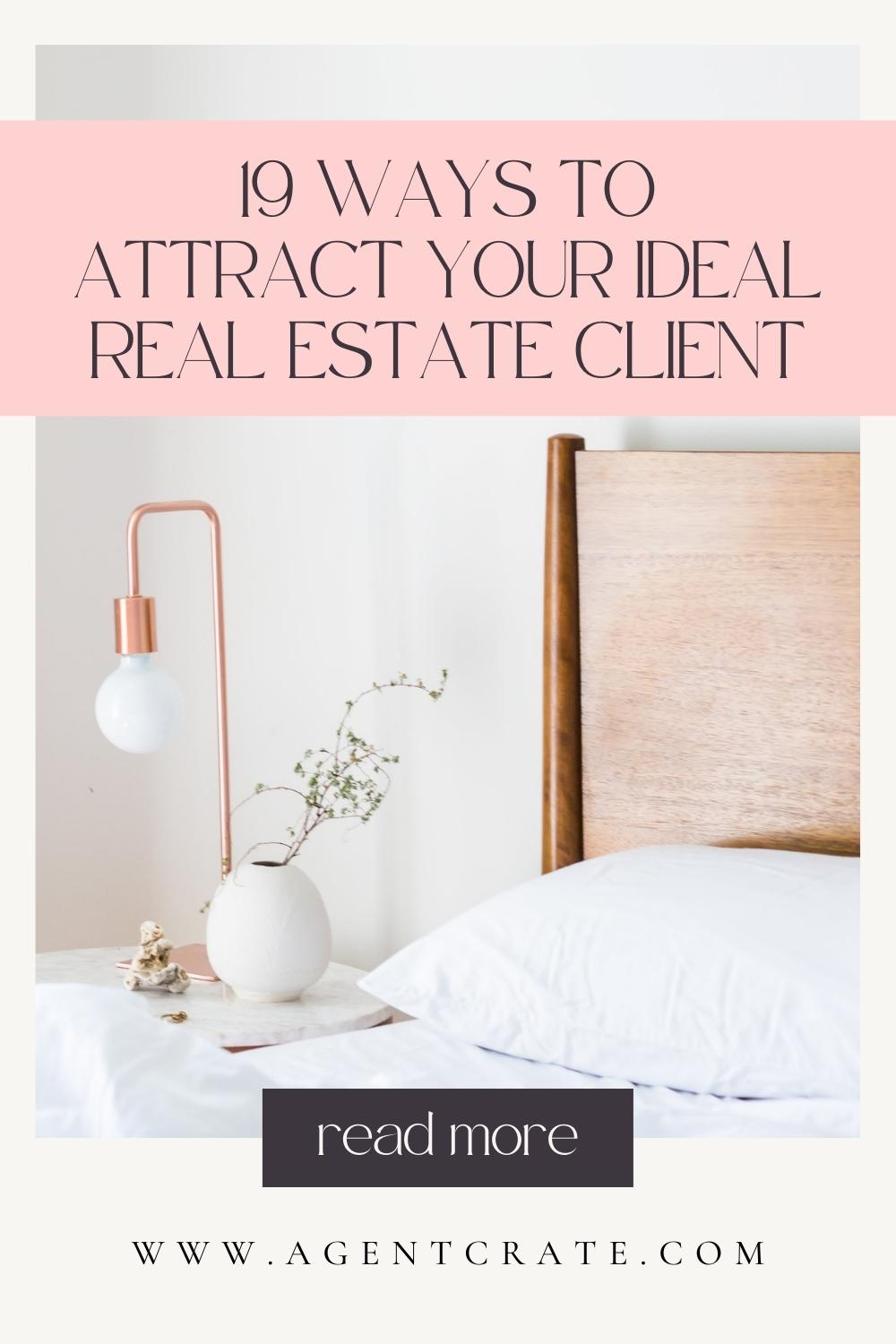 24 Feb

19 POPULAR WAYS TO ATTRACT YOUR IDEAL REAL ESTATE CLIENT

As a real estate agent, you know that the ability to attract your ideal real estate client is key to a successful business. So, what are some ideas for attracting your ideal client? Here are nineteen:
1. Have a Professional Facebook Page and Instagram page.
If you don't already have one, get one and make sure it is professional looking. People want to know more about their potential real estate agent before they meet them in person so spend some time creating a page that says "Here's a little bit about me and here's what I do."
2. Have a Professional Internet Presence.
It should not be hard for people to find you on various internet sites around the web. Make sure your LinkedIn profile, Facebook page, Google+, etc., are all professional looking and that you have plenty of endorsements. Also make sure the domains for your e-mail addresses and phone numbers are professional looking.
3. Create a Professional Online Presence with an E-Book or Report.
You can create a free download on your website that is interesting, entertaining and informative to people who visit your site. The idea is to give them something of value first before you ask them to do a favor for you.
PRO TIP: Utilize the ready made Buyer and Seller Guides Agentcrate offers our members!
4. Create a Professional Press Release to Attract the Media.
The media loves real estate stories. Write up one or two press releases per year showcasing your expertise about something in the market place. For example, if you are an expert at short sales, write a press release all about short sales and send it out to all of the local newspapers to see if they will publish it.
Include a photo of you, your contact information and a by-line. For example: "Jennifer Jones is one of the Top 1% of agents for Sample Realty Group because she knows how to work effectively with short sales." You can also create press releases about real estate topics that would be useful to your community.
5. Host a Monthly Presentation for Other Vendors in the Industry.
You can go to a local restaurant or club and present one topic per month on a specific real estate issue, market condition or industry development that interests other vendors in the real estate industry. This is one of the best ways to get referral business from others- because when you are known as an expert in your field, they feel compelled to refer their clients and customers.
6. Host a Quarterly Presentation for the General Public in your Target Market.
Hosting presentations is one of the best ways to attract your ideal client because when you speak, your prospective clients and customers feel compelled to listen to what you have to say. The presentation can be about anything from preparing your home to sell to how the economy affects real estate. There are always topics that people want to know more about.
7. Create a Monthly Newsletter.
Write a monthly newsletter that will be useful, interesting and informative to your ideal client or customer every month of the year without fail. It can be on anything related to buying, selling, investing or renting real estate or market stats.
8. Develop a Monthly Podcast to Attract Your Ideal Real Estate Client.
Do you have a gift of gab and love talking all things real estate? Then a podcast may be for you! There are lots of ways to create an audio program to distribute online for your potential clients to hear you talking about the business every month without fail.
9. Create a Monthly Video Interview Series.
You can download Zoom or another online video recording program and interview other professionals in the real estate business every month about what they are doing that works well for them to attract clients, get listings, etc. This is a great way to show that you are an expert in the industry and have access to the best people in it.
10. Get involved in your local community.
Serve on committees, attend community events, and get to know your neighbors. The more involved you are, the more likely it is that your ideal clients will take notice.
11. Attend Monthly Networking Meetings.
There are lots of ways to find networking meetings that are open to the public online. Go to LinkedIn, EventBrite or MeetUp and search under "networking" in your local area to see if there are any business networking meetings being held during the week or month in your area. You can also attend Chamber of Commerce meetings and ask if they know of any networking meetings.
12. Advertise.
If you are an agent, there is no better way to advertise than social media. Platforms like LinkedIn, Facebook, Instagram and Twitter offer great opportunities to target your ideal customer. You can also purchase online advertising through Google AdWords or Facebook Ads. You can also advertise in local newspapers, on community websites or on real estate websites.
13. Host Open Houses in your Ideal Market Area.
Advertise an "open house" every month- even if it's for just two hours during lunchtime and you've found the perfect way to attract your ideal real estate client. Have a sign on your front lawn and put one in the paper as well as online. Tell your friends to let you know when they need to sell their home so you can offer an open house as part of their marketing program.
14. Direct Mail Flyers.
You can purchase a list of zip codes for your ideal client or customer and then create a flyer that has information about what you do as well as contact information on it. Mail this flyer to the people in those zip codes once a month, even if just 100 homes. What you're doing is building frequency and creating awareness about yourself and what you do.
15. Place Ads in Local Newspapers and Magazines.
Look up the zip codes of your ideal client or customer and then call the newspaper or magazine to see who does advertising for them. You can advertise once a month in these publications by purchasing an ad that features what you do, how it will benefit others, etc and you will be directly targeting your ideal real estate client.
16. Post an Article Every Month on Your Website.
Make it a goal to have at least one article posted on your website every month with the title being something along the lines of "Tips for First-Time Home Buyers" or "How to Do a Creative Fix-Up." You can do this yourself if you are good with writing (and it does not need to be something that you write yourself- or have a writer create it for you.
PRO TIP: Agentcrate offers our members pre-written real estate blogs that they can easily use on thier blogs and edit as they wish!
17. Referrals from Past Clients.
Get referrals from past clients on a regular basis. For example, if someone uses your investor expertise to find a property that they can fix up and hold as a rental- ask them for three referrals who are looking to buy other investment homes in the area.
18. Social Media and Online Networking.
Make a commitment to communicate online about topics that you know people will be interested in and also post articles that link back to your site so they can read more information or find out how they can work with you as a client. Join and participate on various online networking sites like LinkedIn, Facebook, and Twitter.
19. Guest Posting.
Write articles for online magazines, trade publications or other blogs in your area of expertise. You can then re-post these articles on your website with a link to the article so they can read it. You can also schedule Facebook posts that link back to the article as well.
There are many different ways to market yourself and your business and attract your ideal real estate client, but the key is finding what works for you and then implementing it. The more that you can get your name out there in front of potential clients or customers, the better chance you will have at building a successful business.