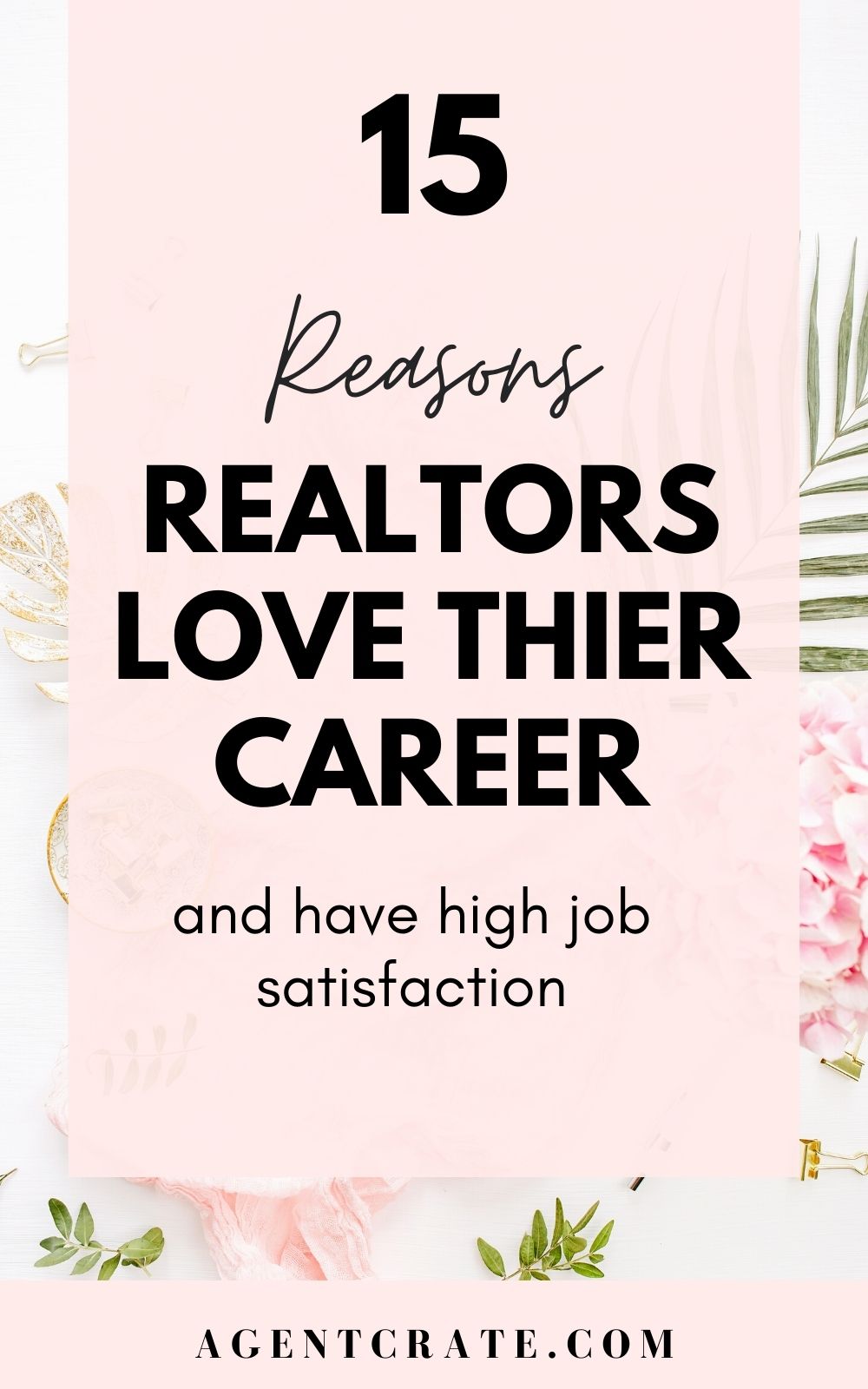 11 Oct

Real Estate Agent Job Satisfaction – 15 Top Reasons You Need to Know

Successful real estate agents express a high degree of job satisfaction. Established real estate professionals who understand what goes into building a solid real estate practice can enjoy the freedom and flexibility that comes from being their own boss. So what tops the reasons real estate agents are so happy in their careers? There are 15 main reasons for such high real estate agent job satisfaction.
The Top 15 Reasons for Real Estate Agent Job Satisfaction
Being the Boss –
The American Dream has often included the concept of working for oneself. Even agents who work with a real estate broker are still wholly responsible for their time, effort, and income. To be their own boss is a huge reason why so many real estate agents are satisfied with their careers.
Love of People –
For the best real estate agents, being able to help others is one of the biggest motivators for success. When they spend time working with clients and earning their trust, it's immensely rewarding. Real estate pros who love to help others find great job satisfaction in their careers.
Love of Property –
Some real estate agents are passionate about finding just the right property for their clients. They enjoy touring homes, finding problem areas, and negotiating to get the best deals for their customers.
Some agents are obsessed with hunting down just the right commercial space or rental units for clients. Whatever their area of focus is, they're happy because they're helping people find properties that will enrich their lives.
Sense of Accomplishment –
In a tough profession where only 20% of agents are able to achieve outstanding success, agents who have been successful can be extremely proud. The fact that so few agents succeed leaves those who have reached the top quite satisfied with what they have accomplished.
Making Money –
While this may not be the most important thing for some agents, the income potential in this industry is still an appealing benefit of being in real estate. Many people don't even consider becoming a real estate agent until they understand how much money realtors can make in the profession. Being able to help clients get the most out of every transaction is a great privilege.
The real estate profession has unlimited earning potential. Earnings vary from agent to agent and depend on a number of factors. Realtors who have been in the business for several years typically earn more than those just starting out.
Some agents work part-time, while others choose to put in a full-time effort. But since agents work primarily on commission – there is no cap to the amount they can potentially earn.
This is one of the best reasons why real estate agents love their jobs and have high real estate agent job satisfaction.
Flexible Work Schedule –
Real estate agents have the unparalleled ability to set their own work schedules. Even when times are busy, you can choose when and how to do your business. If you need time off, no problem! Agents who crave the freedom to set their own schedules find great satisfaction in being a real estate agent.
Travel –
While some agents don't enjoy being on the road all the time, many others do. Many Realtors have a passion for traveling and this can be a huge reason why they're so excited about their career choice!
Agents that enjoy traveling often consider it a perk of the job. They get to see new places, experience different cultures and explore cities.
Enjoying the Outdoors –
The real estate profession allows for a lot of flexibility regarding where you work and what you do. If you like working outdoors, this may be the perfect career path for you. Real estate agents can choose specific geographic areas, such as country living or city living.
You can plan to work with mostly high-end clients or focus on buying and selling new homes. There's a lot of variety in this career field.
Providing Job Stability –
As any real estate agent will tell you, their career offers many perks that improve livelihoods. With prominent job security, benefits, and other financial advantages, being an agent has become a stable choice in recent years. This stability is one reason why agents are so happy with their careers.
Freedom –
Real estate agents set their own schedules. They can work any hours, days, or weeks they like, subject only to their income needs. For agents who work only part-time, this can mean vacations, family events, and just free time. They're free to do what they want, when they want.
Interesting Work –
Real estate agents are problem solvers. Each situation brings different situations to work through; agents find this satisfying to resolve. Every client and every home is different, and finding the best-fit solutions for buyers and sellers can be very rewarding.
Independence –
Being independent is one of the best perks of being a real estate professional. Agents can work independently or become part of a team with other agents. They have the freedom to choose the type of niche they want to work with and determine their own income based on their level of effort. Independence is an appealing benefit of being a real estate agent.
Personal Development –
Since agents control their own incomes, they also have the opportunity to develop themselves as professionals. Agents can work towards becoming experts in their field or expand into other lines of business. They can broaden their skills, learn from others and advance professionally through continued education and leadership opportunities.
Variety –
Real estate agents can choose their own clients, markets and transactions. They can pick projects that are near home or far away. There are many avenues for real estate agents to consider as they build their careers. Some agents enjoy working with new homes, while others prefer selling or renting older properties. Some agents decide to specialize in commercial deals. There are so many opportunities available to real estate agents that they can choose their own niche!
Work/life Balance –
Working as a real estate agent offers the opportunity for work-life balance, which appeals to many professionals. Agents can set their own hours, days, and weeks of work. They have plenty of flexibility with regard to vacations and family time. Agents that work in busy, active markets often find they can balance their personal and professional lives well with the right planning and effort.
Conclusion
Real estate is an exciting profession. Real estate professionals across the country report some of the highest job satisfaction rates of any other career making it more of a fun activity than a "job." With so many agents reporting high real estate agent job satisfaction, the real estate profession is definitely something to consider if you've been thinking about it.