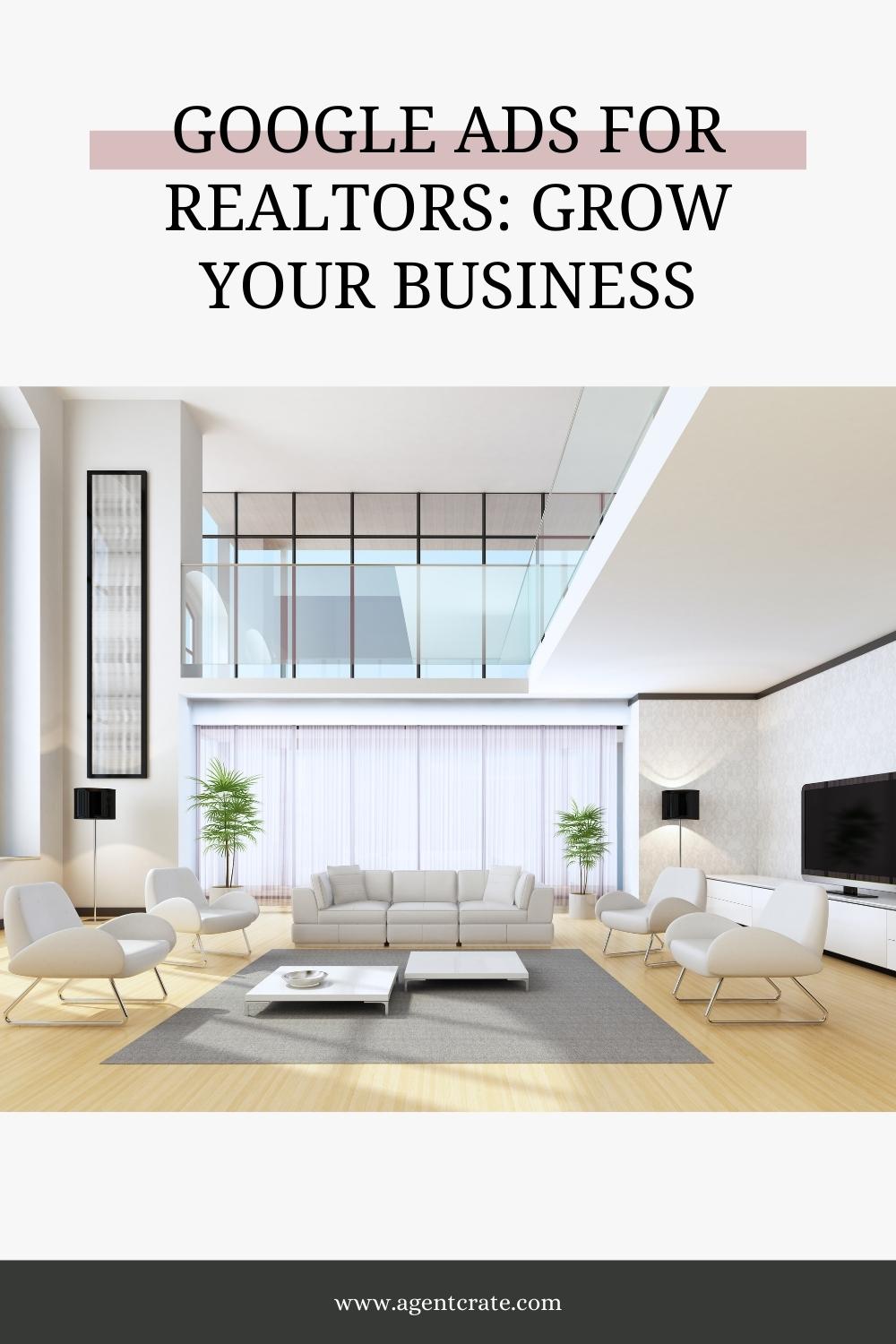 23 Sep

Google Adwords for Realtors in 2022 : Best Tips

As a real estate agent, your business depends on your ability to attract new clients. Using Google AdWords for realtors is one of the most effective tools available for driving targeted traffic to your website and generating leads. In this blog post, we'll give you an overview of how AdWords works and how you can use it to grow your real estate business.
What is Google AdWords?
Google AdWords is an online advertising platform that allows businesses to place ads on Google.com and its network of partner websites. When someone searches for a keyword that you've selected, your ad may appear next to the search results. If the searcher clicks on your ad, they will be taken to your website where they can learn more about your business.
AdWords is a pay-per-click (PPC) system, which means you only pay when someone actually clicks on your ad. You bid on keywords, and the amount you're willing to pay per click determines your position in the search results. The higher your bid, the more likely your ad is to appear in the top spot.
How Can AdWords Help My Real Estate Business?
There are two primary ways that AdWords can help grow your real estate business: by generating leads and by building brand awareness.
Generating Leads:
The whole point of advertising is to generate leads, and AdWords can be a great way to do just that. Real estate is a competitive industry, so it's important to make sure your ads are targeted and relevant to potential clients. Here are a few tips for generating leads with AdWords:
1) Use relevant keywords: When choosing keywords for your campaign, be sure to focus on ones that are relevant to your business and the services you offer. For example, if you're a real estate agent in Los Angeles, you'll want to target keywords like "Los Angeles real estate" or "homes for sale in Los Angeles."
2) Use ad extensions: Ad extensions are a great way to give potential clients more information about your business and what you have to offer. We recommend using ad extensions such as call-to-action buttons, phone numbers, and links to your website.
3) Use persuasive language: Your ads should be clear and concise, but also persuasive. Use language that will encourage searchers to take action, such as "find your dream home" or "sell your home for top dollar."
4) Target local keywords: If you're a real estate agent, it's important to target local keywords since most of your business will come from people in your area. For example, if you're based in Los Angeles, you'll want to target keywords like "Los Angeles real estate" or "homes for sale in Los Angeles."
5) Use negative keywords: Negative keywords are words or phrases that you don't want your ad to show up for. For example, if you're a real estate agent who specializes in residential properties, you'll want to add "commercial" as a negative keyword so your ad doesn't show up when people search for commercial real estate.
Building Brand Awareness:
When people think of real estate, you want them to think of you! AdWords can help build brand awareness for your business by getting your name in front of potential clients even if they're not actively searching for a real estate agent at the moment. For example, if someone sees your ad while they're researching their home purchase online, they may remember you when it comes time to select an agent.   
3 Tips for Building Brand Awareness with AdWords
1) Use Display Network targeting options: The Display Network consists of millions of websites, apps, and videos where your ads can appear. To reach as many potential customers as possible, we recommend using a mix of Display Network targeting options such as interest categories, topics, and demographics.
2) Try remarketing: Remarketing allows you to show your ads to people who have visited your website or interacted with your business in some way. This is a great way to stay top-of-mind with potential clients who may not be ready to buy or sell a home just yet.
3) Use engaging visuals: Since the Display Network is all about visuals, it's important to use engaging real estate images and videos in your ads. People are more likely to remember an ad that is visually appealing, so make sure to put some thought into the graphics you use.
Beginners Guide to Setting up Adwords
for Real Estate
1) First, you'll need to create a Google AdWords account and set up your first campaign. You can do this by going to adwords.google.com and clicking on the "Start Now" button.
2) Next, you'll need to choose your campaign type. For real estate, the most relevant option is "Search Network with Display Select."
3) Once you've selected your campaign type, you'll be taken to the "Campaign Settings" page. Here, you'll need to enter some basic information about your campaign, such as your budget and location.
4) After you've entered your campaign settings, you'll need to create your ad groups. An ad group is a collection of ads that share the same keywords and target the same audience.
We suggest targeting hyper local keywords such as "los angeles realtor" or "real estate agent santa barbara"
Here's an example of search results that come up when searching "los angeles realtor"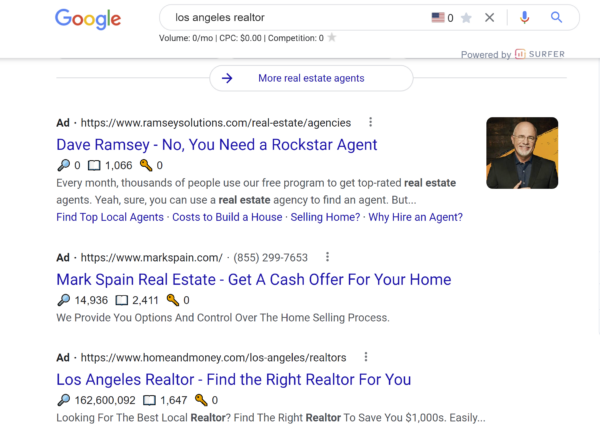 5) After you've created your ad groups, you'll need to write your ads. When writing your ads, be sure to include the target keyword in the headline and throughout the body of the ad. You'll also want to make use of AdWords' various ad extensions, which allow you to include additional information such as your company's phone number or a link to your website. We suggest the final url to be some sort of lead capture form such as an idx page, or free home valuation.
Here is an example of a final url / landing page when clicking one of the search results above:
8) After you've written your ads, you'll need to set your bid amount. The amount you're willing to pay per click will ultimately determine where your ad appears on the page. We suggest setting your bid at the maximum amount you're willing to pay per lead.
9) The last step is to monitor your campaign and make adjustments as needed. You'll want to keep an eye on your click-through rate (CTR), which is the percentage of people who see your ad and click on it. A high CTR is a good sign that your ad is relevant and engaging, and it will also help you improve your Quality Score, which is a measure of how relevant and useful your ad is to users. You can also use the Google AdWords Keyword Planner tool to find new keywords to target, and experiment with different ad copy and visuals to see what works best.
Conclusion: Google Adwords for Realtors
By following these tips, you can set up an effective AdWords campaign that will help you build brand awareness and generate new leads. Real estate is a competitive industry, but with a little effort, you can make your business stand out from the crowd.