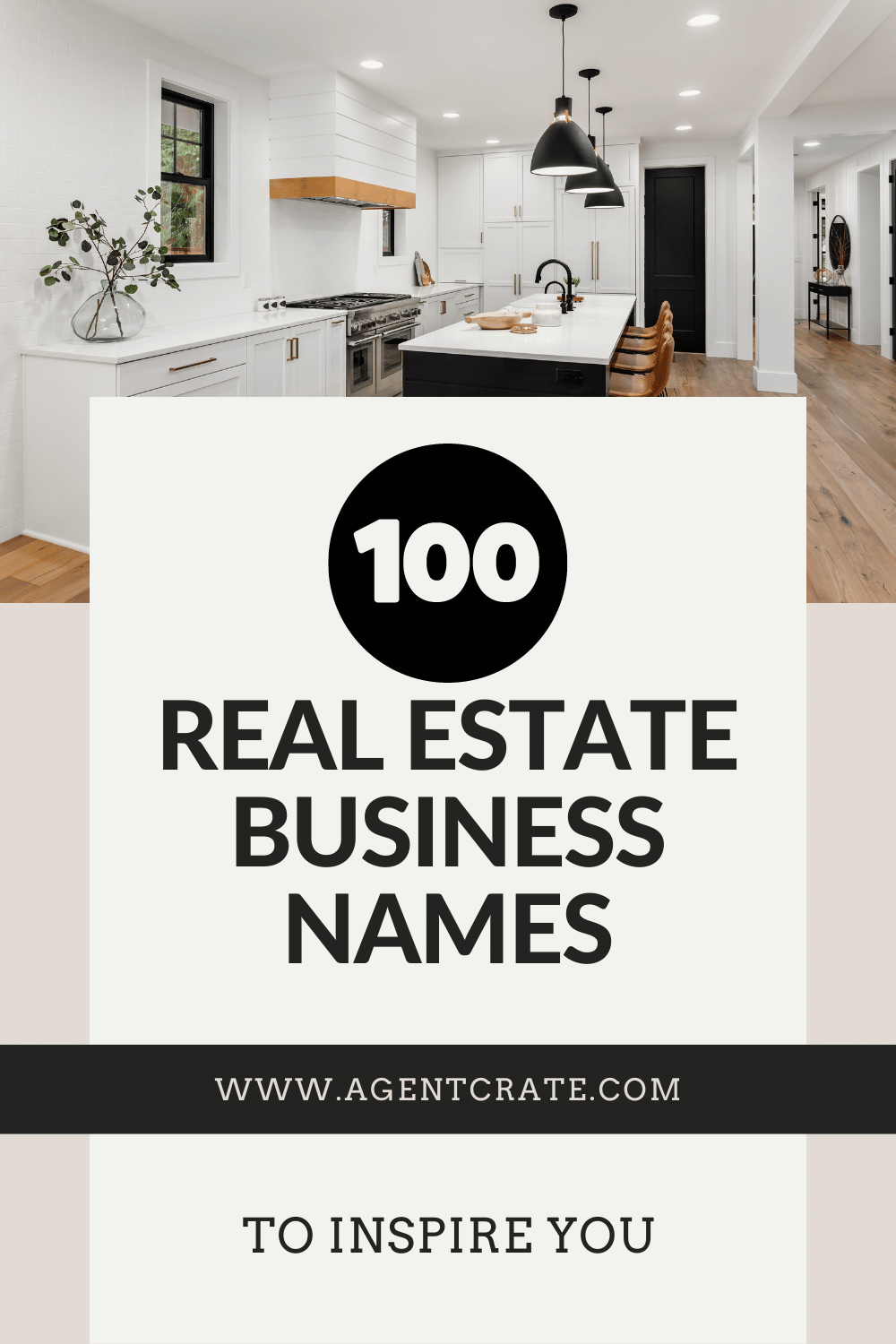 25 Jan

100 REAL ESTATE BUSINESS NAMES TO INSPIRE YOU


Real estate businesses are an integral part of the economy and it's important to choose a name that accurately reflects your company's goals, values, and uniqueness. With so many real estate business names out there, it can be difficult to find something original and memorable. Here is a list of 100 unique and clever real estate company name ideas to help you get your creative juices flowing.
REAL ESTATE BUSINESS NAMES TO GIVE YOU INSPIRATION
1. Real Estate Resource Solutions
2. Home Investment Professionals
3. Dream Property Realty
4. House Market Experts
5. The Hometown Agency
6. Envision Properties Group
7. Alluring Abodes Real Estate Agency
8. Sage Realty Solutions
9. The Property Managers Inc
10. Prime Location Real Estate Firm
11. Grandview Realty Agency
12. Right Place Home Realtors
13. Infinite Possibilities Properties
14. Abode Investment Agency
15. No Limits Real Estate Company
16. Urban West Realty Professionals
17. Dream Home Services Real Estate
18. Ideal Property Solutions
19. Exquisite Land Estate Agency
20. Sovereign Home Realtors
21. Urban Dwelling Real Estate Group
22. Prime Property Sale Agents
23. The Perfect Place Realtors
24. Realty King Real Estate
25. Limitless Sky Realty Solutions
26. Dream Inn Home Investment Group
27. White Picket Fences Estates LLC
28. The Real Estate Gurus Inc
29. Cornerstone Property Solutions
30. Prime Location Specialists Realtors
31. Perfect Property Solutions
32. Real Estate Financial Advisors
33. Land and Sea Realty Firm
34. Urban Home Investment Company
35. Top Notch Estates Realtors
36. Global Home Experts
37. Luxury Living Realty Services
38. Ideal Buyers Property Solutions
39. The Realtor Pros Inc
40. Dream Home Professionals Group
41. Luxury Living Properties Consultants
42. Leading Edge Real Estate Agency
43. Prospective Property Services
44. Private Residence Realty Agents
45. Alluring Abodes Investment Advisors
46. The Property Exchange Group
47. Real Estate Investment Solutions
48. Prospective Home Buyers Professionals
49. Home and Land Realty Firm
50. Dream Homes Realtors LLC
51. Valley View Estate Agency
52. Gateway Residential Property Solutions
53. Stunning Abodes Real Estate Professionals
54. The Property Investment Specialists
55. Home Seekers Realty Services
56. Perfect Location Solutions
57. Top Notch Property Agents LLC
58. Ideal Buyer's Associates Real Estate Firm
59. Luxury Living Realtors & Advisors
60. Dream Home Buyers Realty
61. Prime Real Estate Investment Group
62. Grandview Land & Property Solutions
63. Investment Home Strategies
64. Limitless Horizons Properties Professionals
65. New Beginnings Property Solutions LLC
66. Dream Location Residential Firm
67. Crossroads Realtors Inc
68. Perfect Home Realty Services
69. Real Estate Solutions Group
70. The Realtors Company
71. Property Investment Specialists LLC
72. Market Leaders Real Estate Agency
73. Dream Home Finders Realty Firm
74. Prime Home Buyers Professionals
75. Land and Sea Realty Services
76. Urban Living Realtors & Advisors
77. Home and Land Investment Solutions
78. Dream Properties Agency LLC
79. The Property Management Specialists
80. Prime Location Realty Professionals
81. Right Place Homes Solutions Group
82. Urban West Real Estate Services
83. Stunning Abodes Investment Company
84. Dream Property Solutions LLC
85. Urban Home Buyers Agents
86. Real Estate Financial Professionals
87. The Realty Experts Group
88. Limitless Horizons Real Estate Firm
89. Grandview Property Solutions
90. Land and Sea Investment Agency
91. Dream Home Seekers Realty Professionals
92. The Property Exchange Real Estate Firm
93. House Market Solutions LLC
94. New Beginnings Home Buyers Services
95. Infinite Possibilities Realtors & Advisors
96. Abode Investment Group
97. The Real Estate Gurus Realty Services
98. Prime Location Home Investment Solutions
99. Cornerstone Property Agents LLC
100. No Limits Real Estate Professionals.
10 TIPS TO CREATE CREATE THE PERFECT REAL ESTATE COMPANY NAME


1. Consider Your Target Audience:
The name of your real estate company should appeal directly to your target audience. Think about what kind of people you want to attract and create a name that speaks directly to their needs. For example, if you specialize in luxury properties, include words like "luxury" and "estate" in your name.
2. Incorporate Geographic Locations:
Including localized geographic areas in your real estate company's name can be an effective way to showcase your presence to potential customers who are looking for local businesses. You see real estate companies do this all the time, whether it's "Brooklyn Homes" or "Raleigh Realty." However, be careful with this as you don't want to go too narrow in your choice in case your company grows and expands into larger areas.
3. Choose A Meaningful Name:
When creating a name for your real estate company, think about what it stands for. Does it have some sort of meaning or symbolism? Pick something that reflects the values and message you want to convey to potential customers.
Think about words that evoke emotion, such as "dream," "vision" or "hope." It's also important to make sure the name is easy to pronounce and spell.
4. Think About Abbreviations:
Abbreviations can be a great way to create a catchy and unique name for your real estate company. Consider using acronyms or abbreviations of words that relate to the real estate industry or your services.
Some we've come across that have been successful include "REI" (Real Estate Investors), "JPPM" (Jim's Property Portfolio Management) and "SRP" (Selling & Rental Properties).
5. Use Wordplay:
Wordplay is an effective way to create a memorable and creative name for your real estate company. Try combining words or phrases to make something unique and catchy. For example, add -ology or -ify to the end of a word to make it sound more interesting.
An example of this is "Homesology," which implies expertise in the home-buying process.
6. Brainstorm Ideas:
Take the time to brainstorm ideas for your real estate company's name. Get creative and think of as many options as you can before settling on one that resonates with you the most. Sit with them for a few days and get feedback from friends and family.
7. Do Your Research:
Make sure to do your research before finalizing a name for your real estate company. Check if there are any other companies with similar names, as you don't want yours to get lost in the mix. Places to check would include your state corporation registry, Google search, and other online directories, such as the trademark database.
8. Keep It Simple:
Keep the name of your real estate company simple and easy to remember. Long and complex names are harder to remember and may not have the same impact as shorter, simpler ones.
9. Get Feedback:
Before settling on a name for your real estate company, it is a good idea to get feedback from others who can provide an objective opinion. Ask friends, family or business colleagues for their honest opinion on your name choices.
10. Consult With A Professional:
Finally, if you're really unsure about which name to choose for your real estate company, consider consulting with a professional who can provide guidance and advice on the best choice. This will help ensure that you are making an informed decision.
THINGS TO AVOID WHEN CHOOSING A REAL ESTATE BUSINESS NAME
1. Don't Use Generic Names:
Generic names such as "Real Estate Solutions" or "Realty Group" can be easily confused with other similar companies in the industry and may not convey the unique value that your company brings to the market.
2. Avoid Long Names:
When naming your real estate company, try to keep it as short and succinct as possible. Long names can be difficult for people to remember and may not have the same impact as shorter ones.
3. Don't Overcomplicate Things:
When creating a name for your real estate company, stick with something that is easy to understand and pronounce. Avoid using overly complicated or confusing words that might be difficult for potential customers to recall.
4. Don't Use Obscure References:
Unless you are aiming for a niche audience, avoid using obscure references in the name of your real estate company. This may make it harder to reach out to a wider market and could potentially confuse potential customers.
5. Don't Copy Others:
It's important to be original when selecting a name for your real estate company. Avoid copying ideas from other companies, as this may come across as unoriginal and could hurt your brand image.
6. Steer Clear of Trademarked Names:
Make sure to do your research before selecting a name for your real estate company. This includes checking to see if any of the names you are considering are trademarked by other businesses, as this could be legally problematic in the future.
7. Avoid Offensive Names:
When choosing a name, make sure that it is not offensive or inappropriate. This could hurt your brand image and damage the reputation of your real estate company.
8. Don't Rush The Process:
Take your time when selecting a name for your real estate company. It is important to be sure that you are happy with the choice before committing to it, as this will be a part of your brand for many years to come.
NEXT STEPS ONCE YOU HAVE PICKED YOUR NAME
1. Make sure the domain is available:
Once you have settled on a name for your real estate company, make sure that the associated domain is available. This will make it much easier for potential customers to find and access your website.
2. Grab the Social media handles:
Make sure to secure the social media handles associated with your real estate company's name as soon as possible. This will ensure that no one else is able to use them and that they are readily available when needed.
3. Apply for Trademark Protection:
If you are planning on using the name of your real estate company as a brand, it is a good idea to apply for trademark protection. This will help protect your name from being used by other businesses and ensure that you are the only one who can use it legally.
4. Register your company:
Register your real estate company with the local, state, and federal government to ensure it is legally recognized. This will also make it easier for customers to find you and trust that your business is legitimate.
5. Start Marketing Your Company:
Once you have chosen a name for your real estate company, start spreading the word. Use social media, email campaigns, and other channels to spread awareness about your company and start building a customer base.
Choosing a name for your real estate business is one of the most important decisions you will make as a business owner. By taking the time to properly research options, consider all available resources, and thoroughly evaluate potential names, you will be able to find the perfect name for your business.
By following these tips and taking the time to ensure that your company's name is appropriate, memorable, and original, you can help set yourself up for success as a real estate entrepreneur. Good luck!
P.S. If you're ready to bring your real estate marketing to the next level and attract your ideal real estate client , be sure to check out our REAL ESTATE MARKETING PLANS to save you tons of time on your social media marketing!
Did you enjoy this article? You might also enjoy reading our articles about: