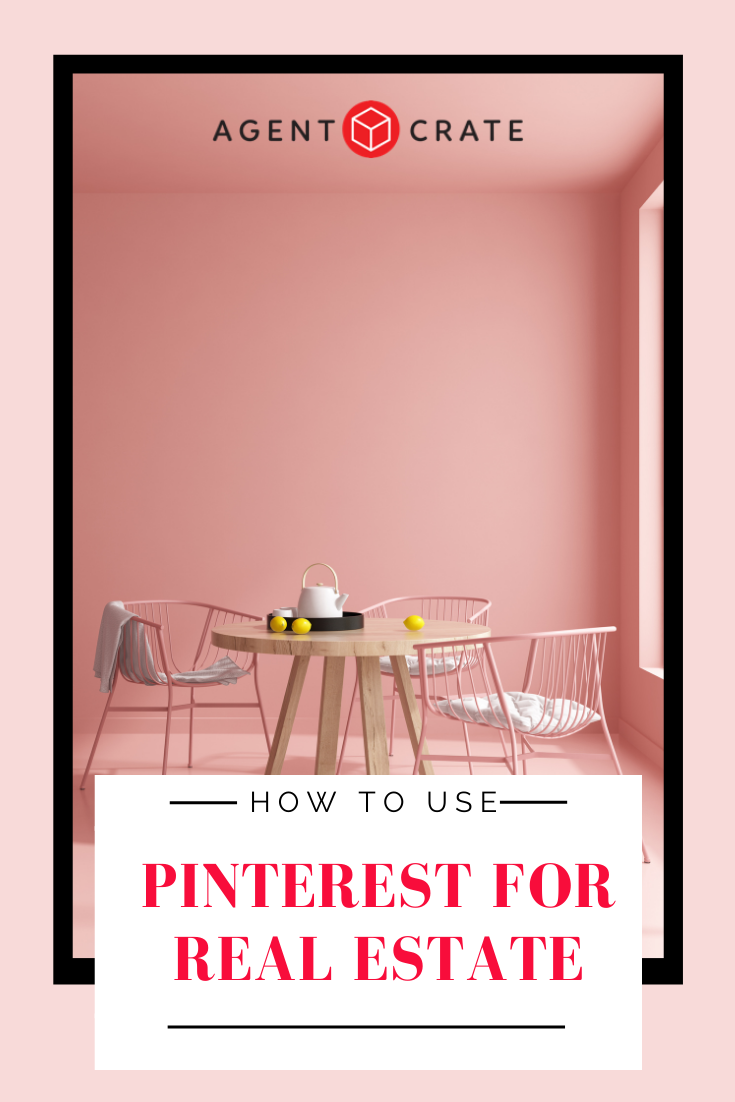 18 Sep

How to Use Pinterest for Real Estate Marketing – The Ultimate Guide

Have you always wondered how to use Pinterest for Real Estate Marketing? What if there was a tool real estate agents could use that could increase traffic to your real estate website and attract your ideal clients if you just spent 15 minutes a day working on it? And there's no colossal learning curve or confusing algorithm formula to — in fact, you're probably already using it expertly in your free time.

Too good to be true?

Usually, that's the case. But when using Pinterest for real estate marketing, these results are definitely possible for your real estate brand with minimal effort.
What are the Benefits of Running a Pinterest for Real Estate Account?
Continuous Website Traffic
Imagine you're scrolling through Pinterest and you see a delicious-looking recipe. All you have to do is click, and voilà — you're taken straight to the source. No copying and pasting links or going back to someone's profile to click on a link.
The point is: as long as you're using Pins effectively (more on that later), it's almost too easy to generate traffic to your real estate website.
Not to mention, Pins last a really long time. So you could potentially keep generating traffic from years-old pins, unlike a lot of other social media platforms where a post is pretty much a one-and-done type of deal. So using Pinterest for real estate marketing is really a no-brainer.
Pinterest for Real Estate – It's a Lead Magnet for Your Ideal Clients
There are a couple of reasons why real estate agents using Pinterest for real estate marketing is such a powerful lead magnet for your ideal clients.
First, it's very visual. Customers tend to respond more positively to visual content since it's an easier way to digest information. And so taking control of the aesthetic and visual content you post can help attract your ideal client.
Secondly, 93% of buyers start online when they're looking for a home. That's why Pinterest is a useful tool to use to get your real estate services in front of potential clients. It's also a great opportunity to show potential homebuyers what it's like living in the community that you serve.
Thirdly, Pins are also search engine friendly (unlike images on other platforms). So all of the Pin content you're creating with your Pinterest strategy will be optimized for SEO purposes.
Market Research for Anything
Wondering what real estate topic you should blog about next? Need some inspiration for website design? Or do you want to do some competitive research to see how you can corner the market?
You can get a dose of inspiration for pretty much anything you need to know with a quick search on Pinterest. Just input the keywords and a cocktail of amazing sources are available right at your fingertips.
Tips on How to Use Pinterest for Real Estate Marketing Effectively
Treat Pinterest Like a Search Engine
Even though we lump Pinterest together with Instagram, Facebook, Twitter, and all other social media websites, it's actually kind of a hybrid of a social media platform and a search engine and real estate agents needs to remember that.
This is because Pinterest uses an algorithm that prioritizes SEO, which mimics search engines like Google, but also allows for your brand to shine in a concentrated or branched out way, like social media.
Now, about Pinterest's SEO — this is a critical step in making your Pins appear during searches. Use your descriptions smartly with relevant keywords and your Pins could easily become your number one source of website traffic.
Use Rich Pins
Rich Pins are pins that have an added dimension to them. For example, if you're sharing a recipe, you might want to add the extra dimension of the ingredients and steps in the process. That way someone can just click on your Pin and it'll take them right to the recipe your Pins link to. Pretty cool, right?
Remember Your Audience
When you're pinning, don't just Pin any ol' random Pin. Remember: this isn't your personal account. This is your professional Pinterest for real estate business account.
This means that you should concentrate on providing useful information and inspiration that have to do with your community, niche, the housing market, and anything else that has to do with your services.
And of course, that doesn't mean you can't share something fun, but make sure it falls in line with your real estate agent brand.
Use Aesthetics to Drive in Your Key Message
As mentioned earlier, Pinterest is uber visual. So make sure you don't overcomplicate your Pin images with super intricate designs and lots of information. Or on the flip side, make a Pin so bare that it doesn't capture the attention of the viewer.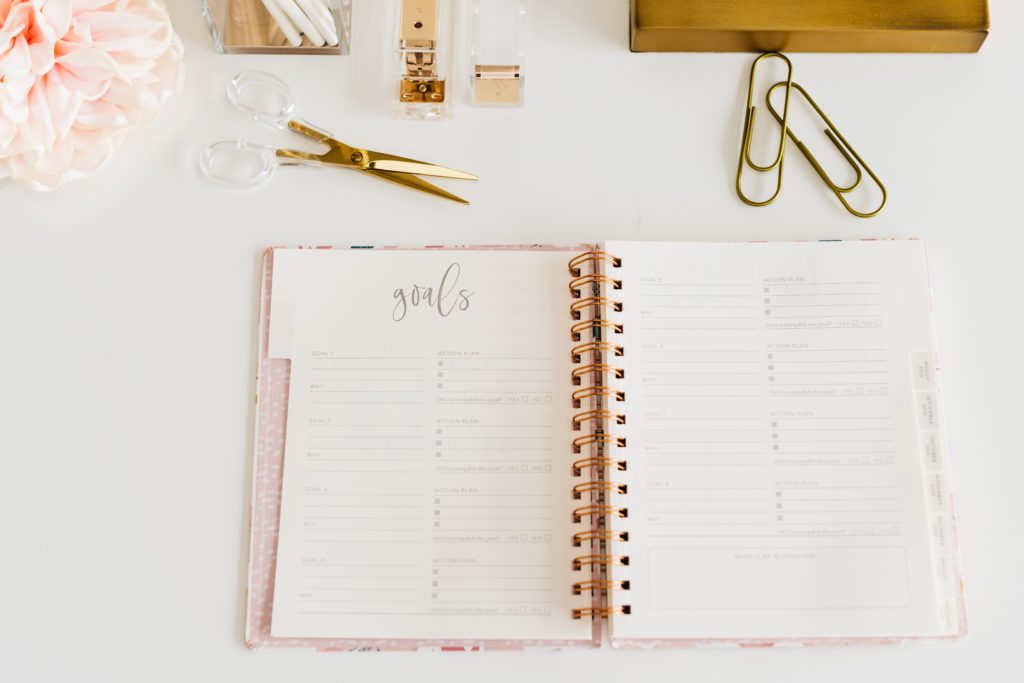 Finding that balance can be tricky, but as long as you remember what your key message is, you can hone in on that. When they're captivated and click on the Pin, that's where the supplemental information will be to help them get the full picture.
And anyways, you're a real estate agent! So there won't be too much of a learning curve on how to put those good-eye-for-aesthetics-yet-functionality skills to use on Pinterest.
Make Pins Easily Shareable
You may be thinking, "wait, don't people just click re-pin and that's it?" Well… yes and no.
Making a Pin shareable means that you're making the Pin available on more than just your Pinterest.
By using plug-ins, like the Pin It Plugin from WordPress, people can click the "P" button on your image and it'll take them to Pinterest so they can Pin it for their viewers to see.
This is so important because, like word of mouth, a Pin can travel far by viewers placing it in front of their own audience. Someone from their audience can pin it to show their audience, and so on.
How to Make a Real Estate Business Pinterest Account
Convert Your Account to a Business Account
Converting your account to a business account opens up access to important insights, such as click through rates, fancy engagement and impression graphs, which Pins generate the most traffic, demographic data, and so much more.
This is incredibly useful so real estate agents can spend time focusing on the Pins and marketing strategies that work best for their audience.
You can create your Pinterest business account by going to this website:
https://business.pinterest.com/en-us/signup
Once you sign up, you'll be asked for your name, business name (you can add both if you like), and a few other questions about your company.
After you've created your account, you'll need to add a banner so people know it's your business profile.
There are plenty of free ones out there if you search for "Pinterest Banners."
Link Your Pinterest with a Facebook Page or Profile
What this does is it allows you to link your Pinterest page to your other social media channels. This way, if someone can't find you on Facebook or Twitter, they can easily find you on Pinterest.
Here's how to link it:
1. Go to the Pinterest business site again (https://business.pinterest.com/en-us/signup) and log in with your email and password.
2. Look for the "Profile" tab on the top of the page and click on it to open up a new window:
3. To link with Facebook, simply click on the "Link your business" button.
4. From there, you'll be able to link it with Facebook by filling out the information in the pop-up window that appears:
5. It may ask you to authorize Pinterest to access your Facebook account for this purpose, which is pretty standard for most websites that use Facebook's platform.
Just click the blue "Okay, I Authorize It!" button and you'll be good to go.
6. Now on your Pinterest business page, look at the top right hand side of the screen where it says "Powered by Facebook" and "Log Out."
7. Hover your mouse over the Facebook icon with your profile photo, then click on the link that appears to show the popup menu.  When you do this, you can now choose which page or profile of yours is linked with Pinterest.
In this case, simply click on your Facebook page, which will be listed as a "Page" option. This way the people who follow you on Pinterest can find you on Facebook.
8. Now it should say that your account is linked to a Facebook Page:
9. To also link it with your personal profile, simply repeat the steps above by clicking on "Link Your Business" again.
10. When the popup options appear, choose your personal Facebook account this time around.
Once you do this, other Pinterest users should start seeing that your profile is also linked to a Facebook account.
11. You might have to log out and back into Pinterest again for it to take effect, but you should now see that your Pinterest business account is also linked with a Facebook Page AND Profile:
When you're finished, all the steps above will create a business page on Pinterest which can be found when people search for you on Pinterest. This way it makes it easier for people to find you and follow your boards, which in turn helps you grow your audience.
You can also verify your website by adding a "Pin It" button to the web version of it so that when someone is viewing your site they can easily "Pin It" on Pinterest.
Keyword Your Bio and Profile
Remember that Pinterest operates on SEO? Well, this is a space where it's necessary to take advantage of that fact.
Add one or two primary keywords to your name, and write your bio with the secondary keywords you want to rank for.
Some questions to ask yourself to get the right keywords into your bio are:
What's my real estate niche?
What community do I serve?
What do my services accomplish?
Is there something my brand is really known for?
Now, remember — even though you want to be SEO-friendly, you also want to make sure your bio flows naturally. There's nothing more robotic than a stuffed-to-the-brim-with-keywords bio.
In addition, even though it's important to rank in searches, you still want to connect with anyone who comes across your profile and convey your mission. A helpful way to do this is to shift your perspective from about-you-centered to client-centered.
Upload a Clear and Friendly Photo of Yourself
No, a cropped-in photo of your face will not suffice here. In order to build some credibility to your profile, make sure you have a professional headshot that is clear, friendly, and maybe even shows a little bit of your personality.
First impressions count — and even more so when you're making a first impression online.
Use paid advertising
Pinterest's advertising features are extremely advanced but there are no reasons to neglect to use them for reaches the broadest audience possible.
Pinterest allows for Targeted People based on Location – a key factor in real estate marketing. This method of advertising is very cost effective since they charge you only per Click on your web site.
There are several types advertising campaigns to choose from including traffic campaigns that are easy to setup and easy to do for new users of The Pinterest Platform to start with and use Pinterest to target your target demographic. The simplest way to sell free on Pinterest is use the platform.
Stick to the posting schedule
One key strategy for using Pinterest for Real Estate is sticking with a schedule. Start with at least three or four Pinterest pins a day for your best posts. Keep those scattered around for the whole day. There are numerous tools that help you plan out your projects the most efficiently possible.
Tailwind App is a simple tool for designing a posting schedule within minutes. It has an intuitive dashboard with a simple navigation interface and a user-friendly interface.
Tailwind provides valuable information in regards to your profile engagement and reach. It also includes a virality score which measures how many followers are pinned to my page at the same time.
Create brand consistency with your pins
Pinterest users battle for your attention on social networks. The only way to stand out in this space is by creating visually appealing brands.
This can be achieved by using a combination of appealing and easily identifiable hues and styles, fonts, images logos, and other visual elements. This will create an Instagram-like mood for both your page and the users that keep coming back.
Your Pinterest for Real Estate strategy needs to be a year-long not a week.
Pinterest success depends less only on a few clicks there – but it requires all-around strategies. Create a long-term strategy that will grow your audience and provide them with high-quality content.
Pinterest can be an invaluable source of traffic, but you have to keep in mind the fact your posts will only go live if they're continually being pinned by you or others.
If there's no movement on your posts at all, they'll eventually get buried and forgotten, and your traffic will dwindle.
Create Pinterest boards around topics your potential home buyers and sellers are interested in.
When it comes to Pinterest people tend to be afraid to put it in a category that's similar to Facebook or Instagram. People use Pinterest as a search engine and save their search results to refer back to later on.
Real estate agents can maximize this opportunity by creating pinterest boards around the topics their potential homes buyers will want to hear about. In fact, Pinterest says its own research shows that nearly 95% of Pinterest users used the site on a daily basis to buy something.
Pinterest also said that it sees more than 7 billion searches monthly! Pinterest is always growing so it's not hard to imagine what the numbers will be like by next year. If realtors are using their Pinterest account this way, users are likely to see them as an authority in their area.
Realtors can also pin content relevant to their buyers' interests. For example, people who are buying a house in the summer may be interested in the pool pin or beachfront pins.
Other examples of Pinterest boards real estate agents could create are:
First time home buyers boards –
for people looking to their first house- might want tips on how to decorate, what to expect when they move in etc.
Managing your money –
Provides tips and advice for buying/selling homes as well as the best apps/accounts to do it with;
Home sellers –
What to do when selling a house etc
Home Improvement –
Tips on Home Renovations for homeowners
Real estate agents should create Pinterest boards that are comprehensive and make sense. Reverse-engineer your boards to really figure out what will work for you and your buyers/sellers.
Don't forget about group board participation
Group boards are a great place for a real estate agent to engage new audiences. You can join old boards that focus on specific broader topics such as real estate or technology. Request to join these boards to reach new leads by offering content that existing supporters will never be able to resist clicks on! In addition to the old boards, Pinterest allows you to create a completely new group board. Work with other people in your industry to create a stream of fresh content that will build up this shared board and establish you as an authority figure in your field.
Now You're Ready to Start Pinning!
With all this information in mind, you're finally ready to start pinning! Put this Pinterest real estate strategy to work and you should soon start seeing your following and audience grow! Just remember to stay consistent with Pinterest marketing and patient!
PRO TIP:
Agentcrate offers Pinterest real estate templates as part of our exclusive member-only content within our Design Studio (and hundreds of other templates as well!).