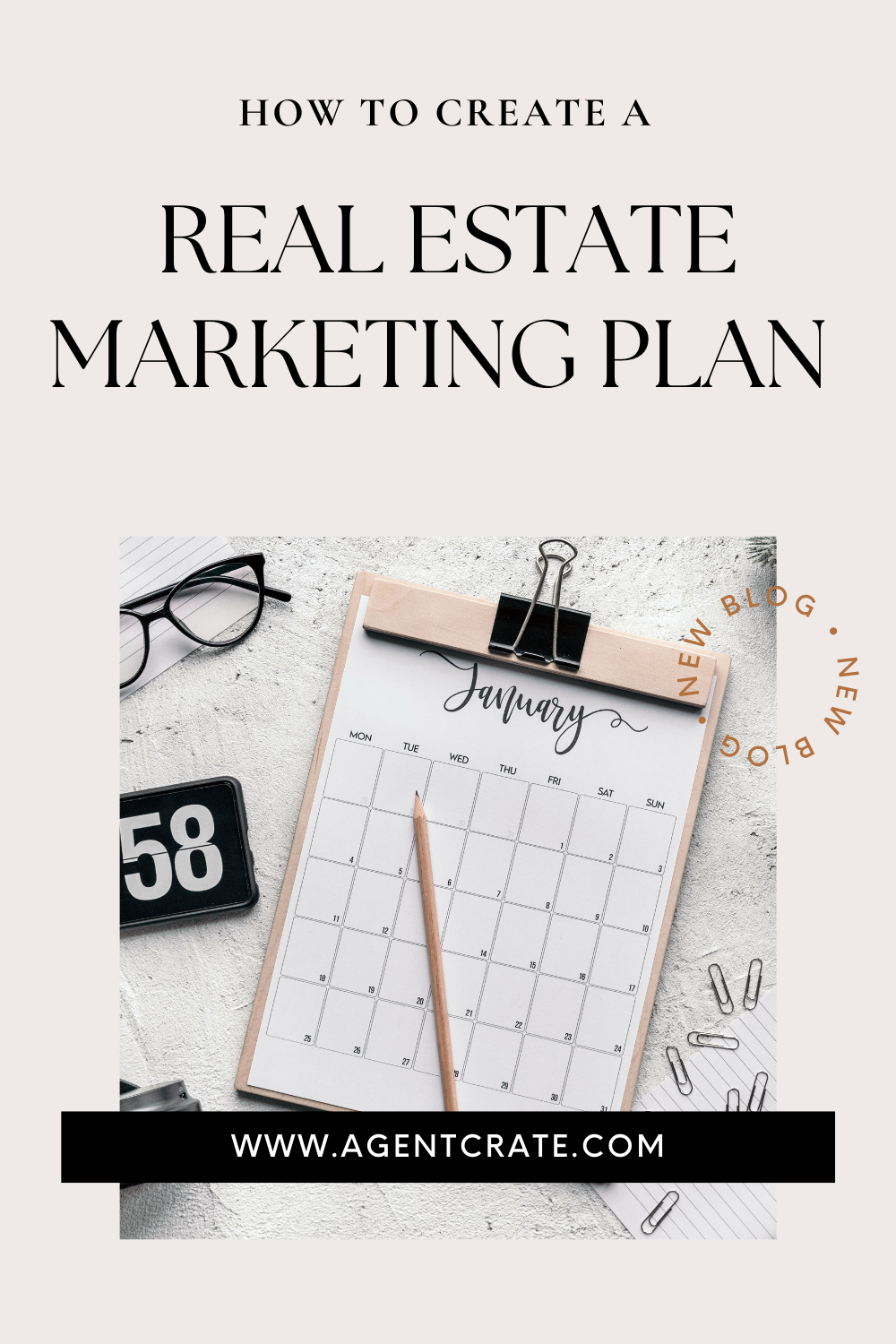 08 Dec

10 Step Real Estate Marketing Plan Example for Top Agents in 2023

As a realtor in the highly competitive real estate market, it's important to stay ahead of the competition and make sure your marketing plan is up-to-date and effective. Setting up a real estate marketing plan example for 2023 is essential to ensure you're reaching your target audience, standing out from the competition, and driving conversions. This blog post will cover 10 actionable steps you can take in order to create a comprehensive and effective marketing plan example for 2023.
10-Step Easy Real Estate Marketing Plan Example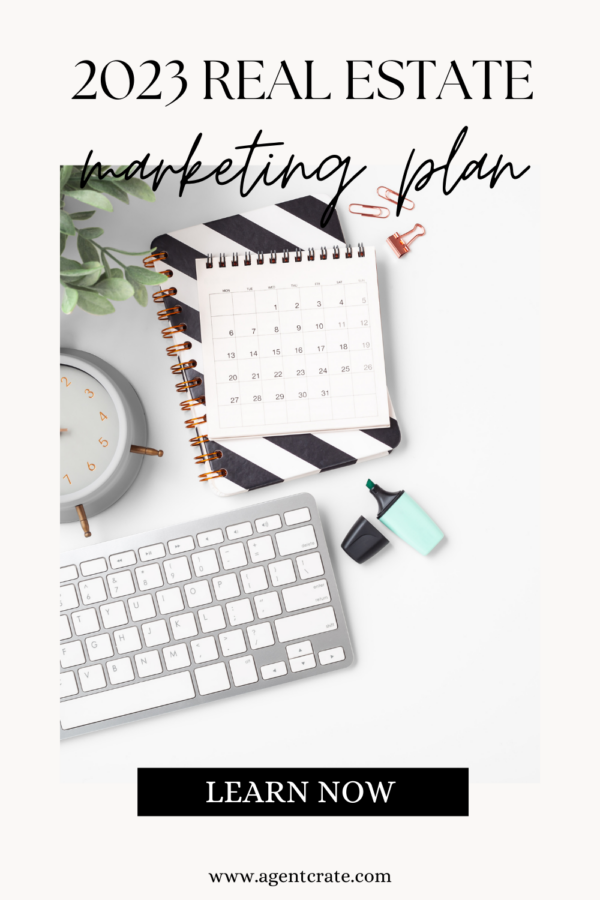 1. Research the Competition
To get an idea of what your competitors are doing, it's important to do a competitive analysis. Take a look at their websites, social media profiles, and marketing materials to see what strategies they're using and what's working for them. This will give you ideas for what you can do in your own marketing plan.
Questions to ask yourself during this step:
– Who are my competitors?
– What strategies are they using?
– What's working for them?
– How can I differentiate myself from the competition?
Organize your results in a spreadsheet or document so that you can easily refer back to it.
2. Identify Your Target Audience
Knowing your target audience is key to successful marketing. Take the time to research who you want to reach and what they're looking for. Identify what type of content they like, what channels they're active on, and what their pain points are. This will help you create more effective and targeted marketing campaigns.
For example, a sample customer avatar for a real estate agent could be:
"My ideal client is a professional who is looking for their first home. They like to read about current market trends and rely heavily on online reviews when searching for an agent."
or
"My ideal client is a young family looking to upgrade to a larger home. They are active on social media and like to watch videos about the real estate market. They tend to make decisions quickly, so they need an agent who can work with them efficiently."
But how do you figure this out? Try surveying existing clients and looking at analytics to see which demographics are engaging with your content the most. You may start to see a pattern that can help you hone in on who your target audience is.
Or, you may have a specialized niche that you serve, such as waterfront home or golf course communities, or investment properties. Tailoring your messaging to this niche can be a very effective way to stand out from the competition.
3. Set Goals
Before you start creating and implementing your marketing plan, it's important to set goals. Decide what you want to achieve with your marketing plan, such as increasing leads, boosting website traffic, or reaching a certain number of followers. Once you have your goals in place, you can create a plan to reach them.
Make your goals tangible and concrete – an example would be:
"I want to increase my website traffic by 25% in the next 6 months and generate 20 new leads per month. I'd also like to increase my followers on social media by 25% in the next 6 months."
or
"I want to increase my online presence by creating content and engaging with potential clients. I'd like to create 1 blog post a week, 3 social media posts per day, and send out 2 monthly emails.
As you reach your goals, it's important to keep improving and tracking your results. Review and adjust your goals as needed to ensure you're always aiming higher.
4. Create a Budget
Create a budget for your marketing plan and make sure it's realistic. Take into consideration the time and money you have available and decide how much you're willing to invest in marketing. This will ensure you have enough resources to create effective campaigns.
Here's a breakdown of a sample marketing budget for a realtor:
Set aside 10%-15% of the revenue you brought in last year and break it down into segments.
– 30% for content creation
– 25% for paid advertising
– 25% for lead generation and email marketing
– 20% for miscellaneous expenses such as printing and hosting fees.
Based on the above sample, if we had $10,000 to work with annually as a marketing budget, this would equal $3,000 for content creation, $2,500 for paid advertising, $2,500 for lead generation and email marketing and $2,000 for miscellaneous.
PRO TIP: Agent Crate makes content creation affordable, with plans starting at only $29 per month at the time this article was written.
5. Choose Your Platforms
Once you have identified your target audience, decide which platforms you'll be using to reach them. Choose the channels that best fit your business and target audience. This could include social media, email, or even traditional media such as television or radio.
We recommend all real estate agents have a presence on Facebook, Instagram, their own Website, and LinkedIn at a minimum. Additionally, you may want to consider paid advertising campaigns on Google Ads or other platforms in order to reach more people.
6. Develop a Content Plan
Content is key to any successful marketing plan. Take the time to develop content that is interesting, engaging, and targeted to your audience. This could include social posts, reels, stories, blogs, videos, podcasts, and more.
Develop a content calendar to help you stay organized and ensure you're consistently creating and sharing content. Content calendar examples could include:
– 2 blog posts per month
– 2 emails per week
– 2 social media post per day
– 1 video per week.
PRO TIP: You can use Agent Crate's monthly calendar to help you easily find and organize content ideas.
Develop clear and concise content that resonates with your audience. Use visuals to draw attention, such as photos, videos, or memes. Focus on providing useful information for your audience and try to have fun with it too! Make sure all the content is optimized for different platforms and devices so everyone can access it easily. Finally, create calls-to-action with each post to encourage people to take action, such as visiting your website or reaching out for an appointment. With regular and engaging content, you can keep your target audience engaged and informed about what's happening in the real estate market.
PRO TIP: Agent Crate can help you shine here! Our content packages provide you with high-quality, professional content to help you engage with your audience and grow your business in no time. Learn more about our real estate marketing plans now.
7. Utilize Paid Advertising
Paid advertising can be a great way to reach your target audience. Consider using platforms such as Google Ads, Facebook Ads, or Instagram Ads to get your content in front of the right people.
You can use paid advertising in a number of ways, such as getting more exposure for listings, creating ads for specific products or services, and targeting potential leads. You'll want to make sure you have a clear goal in mind before launching any campaigns.
8. Monitor and Analyze
Once you start implementing your marketing plan, it's important to monitor and analyze the results. This will help you identify which strategies are working and what needs to be improved. Use analytics tools to track your progress and make sure you're getting a return on your investment.
Some stats that would be great to track from your advertising efforts are:
Followers/Subscribers Added
Leads Received
Revenue Generated
Engagement Rate
Impressions
Clicks
Conversions
9. Take Advantage of Automation
Social media can take a lot of time, but it doesn't have to. Utilize automation tools to save time and increase efficiency. Take advantage of automation tools to save time and simplify your marketing efforts. There are many tools available to help you with content creation, scheduling, analytics, and more.
PRO TIP: Did you know Agent Crate offers automated social media posting plans for real estate agents? We'll take care of everything so you can focus on growing your business. Learn more about our automated posting plans now.
10. Stay Up to Date
It's important to stay up to date on the latest trends and strategies in marketing. Monitor the industry and be open to making changes to your plan based on new trends and insights.
For example, if you haven't been using reels to promote your business, consider giving it a try! Reels are becoming increasingly popular and can be used to create engaging content for your social media accounts. Trending audio is another example of a new trend that could help you reach more people.
To make sure your real estate marketing efforts are successful, it's important to stay informed and be ready to adjust your plan. With the right tools and strategies, you can effectively market yourself and increase your business's visibility in no time!
Creating a marketing plan for 2023 is essential for realtors to stay ahead of the competition and reach their goals. By following these 10 actionable steps, you can create an effective and comprehensive plan that will help you reach your target audience and drive conversions.
P.S. If you're ready to bring your real estate marketing to the next level and attract your ideal real estate client , be sure to check out our REAL ESTATE MARKETING PLANS to save you tons of time on your social media marketing!
Did you enjoy this article? You might also enjoy reading our articles about:
PIN THIS ARTICLE: