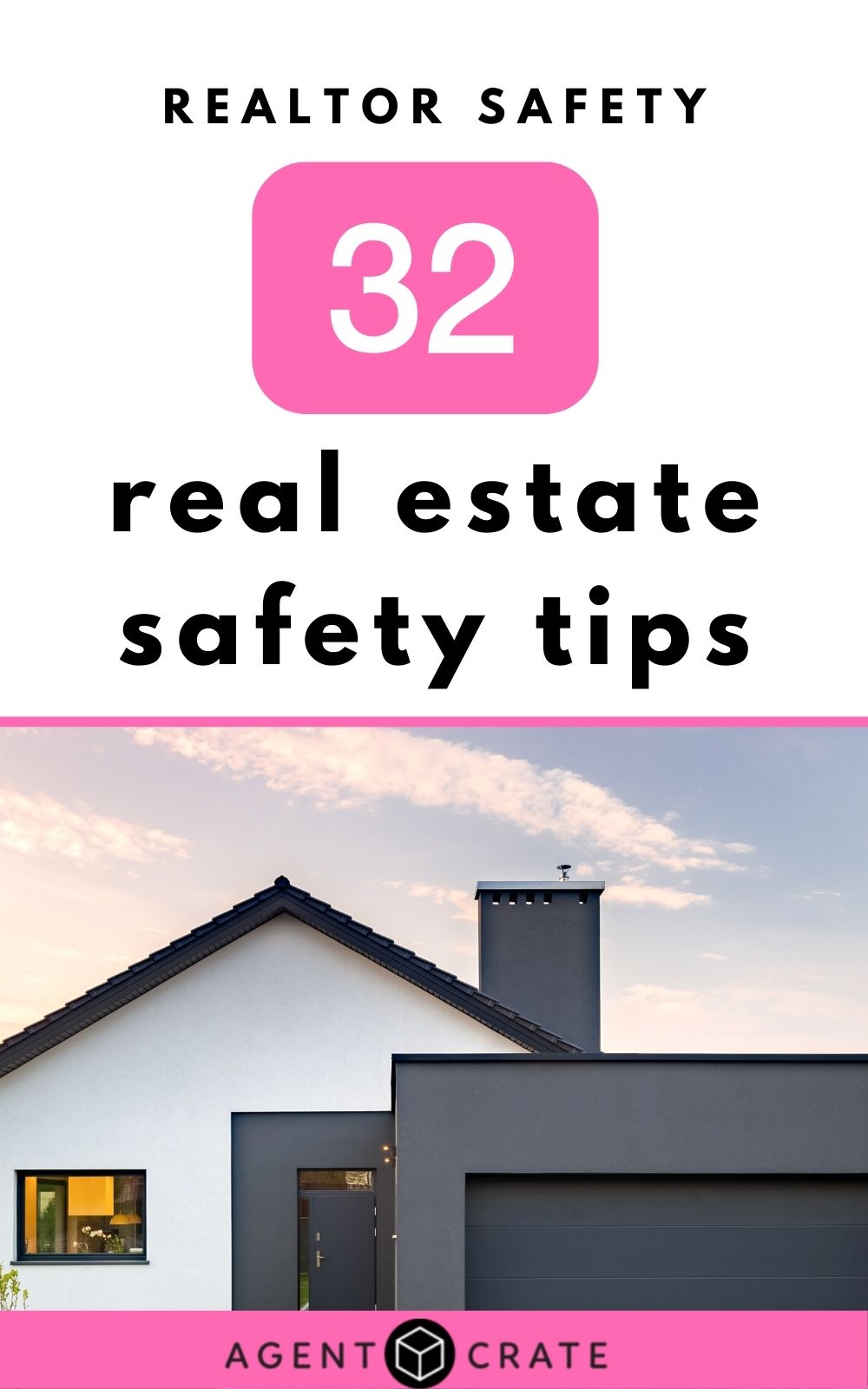 22 Sep

32+ Realtor Safety Tips to Keep Yourself Protected

Realtors are a key part of the real estate industry. They often meet with strangers face-to-face and go to homes that they have not been inside before. This can be dangerous, so it is important for realtors to be aware of their surroundings and take these real estate agent safety tips seriously. In this article, we will discuss 32 different realtor safety tips to be aware of as a realtor!
Realtor Safety Tips Statistics

According to the National Association of Realtors 2020 Member Safety report, there are some startling statistics that all realtors should be aware of, making learning about realtor safety tips even more important.
Some alarming statistics from the report include:
31% feared for their safety at open houses or during showings
4% were a victim of a crime while working as a real estate professional
Of the 4% who were crime victims, 35% of the time it occurred after receiving a threatening or inappropriate email, text message, phone call, or voicemail
39% of real estate agents said that they had met a new or prospective client alone at a secluded location or property
51% reported hosting an open house alone
34% felt unsafe showing vacant properties
38% had participated in a self-defense class
49% carry self-defense weapons
Based on the above information, it is important for the real estate agent to learn as much as possible about real estate agent safety. So let's get started right away in learning about the top real estate safety tips!
#1 – Screen Clients Prior To Meeting
To get started on our realtor safety tips, real estate professionals should not meet a client at their home without first meeting them in person and checking out who they are. And if you aren't able to meet in person prior to your meeting then social media can also be a great tool to verify the identity of your client.
For example, realtors could check Linkedin or Facebook to verify that they are who they say they are. Or a quick Google search may also reveal information about them.
These days, the internet offers a plethora of information about anyone, so real estate professionals should not meet clients without at least first checking them out.
#2 – Meet Clients at the Office or Public Place First
When meeting a client for the first time, it is important to meet them at their office or a public place. This gives you more options if something goes wrong and also brings other people around in case there are issues.
Some suggestions for meeting places include:
Coffee Shop
Restaurant
Library or public park
Your Brokerage Office
Having these meetings at these locations not only helps you to meet clients for the first time in a better way, but it also allows you to spend some quality time getting to know them better over a cup of coffee, for example.
#3 – Ask for a Copy of  Drivers License
When meeting a client for the first time, ask them to show you their driver's license and write down the information. This will help you in case they try and give you fake info or if something happens later on that makes their ID necessary.
#4 – Avoid night showings
When showing homes at night, it is important to only do showings with clients that you know and trust. This is especially true if the home has no lights on or areas that are not lit up well. If a robber sees this as an opportunity for them, they will also see it as one!
#5 – Control the Keys at all Times
When you are showing homes with keys, it is important to control the key at all times. Do not hand them over and do not let your client put their hands in your pockets or purse for them. Only give out one key at a time so that someone else does not get more of an opportunity to grab another set of keys.
#6 – Be Aware of Your Surroundings
When taking clients in to show them homes, always be aware of your surroundings and where other people are located around you. This is important for two reasons: one so that if something does happen you will have some kind of idea about who might do it or what could occur; and two, so that you are not surprised by someone or something.
#7 – Establish an Office Safety Code Word or Phrase
Within your brokerage, it's a good idea to establish an office safety codeword or phrase that you can use with other agents. This way, if someone else feels threatened by a client, they will know to use the safe word and it lets both of them leave quickly.
#8 – Tell Your Family and Friends Where You Are Going
Another great idea as far as realtor safety tips are to tell your family and friends where you are going. Or share a copy of your schedule and appointments.  If something does happen, they will be able to help find you faster if needed!
#9 – Check Out The Home You Are Going To Before Entering
It is important that realtors check out the home before entering it. This means checking all of the doors and windows to see if they are locked or unlocked.
This also means looking around to see if there are any open windows or doors that someone could easily get in through.
Make sure the home does not have unwanted occupants such as "squatters" or people who may be squatting and hiding out.
If you do feel uncomfortable about entering the home, it is OK to say "no" and leave without feeling guilty. Your safety comes first!
#10 – Take Your Own Car
As often as possible, take your own vehicle when showing homes to clients. This makes it easier for you to leave quickly if needed and can also help in case your client wants to take you somewhere else or follow them home.
#11 – Trust Your Instincts
If something does not feel right to you, then it probably is not. Trust your instincts and leave the home immediately!
#12 – Consider a Self-defense class
There are many self-defense classes that realtors can take to learn how to protect themselves if needed. It is also a great idea for them to carry pepper spray or mace with them at all times!
A few examples of self-defense classes are Krav Maga, Cardio Kickboxing, and Impact Defense.
Also, local law enforcement may offer free self-defense classes that you can take advantage of!
Additionally, local MLS' may host real estate self-defense classes from time to time, and many times free of charge to their members — if your MLS does, please do take advantage of the opportunity.
#13 – Review the Client's ID Before Meeting
Before meeting clients, always take a good look at their ID and verify it with them. Do not only rely on an image of someone you see online to be the same as what they really look like in real life!
If you do have any doubts about whether or not this is actually who they say that they are, then leave immediately. It is better to be safe than sorry!
#14 – Take Down License Plate Numbers of Vehicles Before Entering Home
Make sure to take down the license plate number before entering their home. If something does happen, this will help police find them faster if needed unexpectedly!
#15 – Let the Client Enter the Room First
It is important for realtors to let the client enter a room first. You can always follow them in and then close the door behind you to help give yourself more time before needing to leave abruptly!
This allows you to keep an eye on them and also gives you more time before needing to leave quickly.
#16 – Keep Your Cell Phone On You at All Times
Make sure to keep your cell phone on you at all times. If something does happen, you can immediately call 911 and report the incident! In addition, make sure your cell phone is fully charged at all times.
It's also a good idea for real estate agents to pre-program important numbers into your phone. These numbers could include 911, your broker's number or office manager, an assistant you work with regularly, and any family members that live nearby.
#17 – Install Safety Apps Onto Your Phone
Install safety apps onto your phone. Some examples of these are Find My Friend, Guardly, and SafeTrek! These apps offer a variety of features including the ability to call 911, track your location, and even alert other people that you might need help!
Some apps might even have settings requiring that you "check-in" at certain timeframes and can be set up to alert authorities if you miss your check-in time!
#18 – Watch For Red Flags
If there is anything unusual about the client or their home, then this should definitely be a red flag for you. Watch out for any strange behavior that they show and leave immediately if anything seems off!
The client being intoxicated, having a weapon in the home or near it, or exhibiting signs of mental illness, refusing to leave the house, following you into a room, and intruding on your personal space are all examples of red flags.
#19 – Stick to Public Areas
It is important that realtors stick to public areas for their safety. This means not meeting with clients at their homes, which can be dangerous and lead to robberies or other crimes. Always meet in a well-lit area instead of secluded ones like parking lots or wooded areas.
#20 – Park in a Well-Lit Area
Make sure to always park in a well-lit area. There should be other cars around and people walking past as often as possible.
The first and most important thing to note is if there are additional measures such as security cameras. This means it'll be far more difficult for someone to try anything malicious without being discovered!
#21 – Consider a Self-defense weapon
There are many self-defense weapons that you can keep in your car or have with you for safety. Many people recommend pepper spray/mace, a taser, or even something as simple as a whistle to alert others if needed!
According to the National Association of Realtors Member Safety Report – 49% of real estate agents carried a personal safety weapon and of those 49% the most common types of self-defense weapons carried by a real estate agent were:
Pepper Spray (19%)
Firearm (14%)
Pocket knife (7%)
Taser (4%)
Noisemaker (3%)
Batton or Club (2%)
#22 – Have an Escape Route
It is important for realtors to have an escape route when meeting with clients. This means looking for escape routes in case anything happens and you need to leave immediately!
To ensure you have an escape route in mind, make sure to get to know the floorplan of the home. This way you'll know where the windows are, doors that lead outside, and anything else you can use to get away quickly!
#23 – Safety at Open Houses
Real Estate Open houses can be dangerous if you are not careful. It is important to have a plan for safety before going and knowing who will be there to keep an eye on things!
Do Not Go Alone – This is important for open houses as well. Make sure to not go alone and bring at least one other person with you if possible!
Have a Backup Plan in Case You Need Help – It is always best to have a backup plan just in case things do happen unexpectedly. This means having someone that can come and help you if anything does occur. This also means making sure to leave a spare key with them in case you cannot get inside of your car or home safely!
Be Aware Of Your Surroundings – It is important for realtors to pay attention to their surroundings at all times while attending open houses. Make sure that nothing looks suspicious or out of the ordinary. If anything does occur, try to remain calm and find help immediately!
Let Others Know That You Are Attending An Open House – Let others know that you are attending an open house if possible. This means telling your family or friends where you will be in case something happens unexpectedly! It also helps if someone can come to check on you if they do not hear from you or see your posts about the open house.
#24 – Consider Jewelry with Safety Features
Many realtors choose to wear certain types of jewelry, such as necklaces or bracelets with safety features on them. This can include alarms that will go off if you are in trouble and need help!
#25 – Don't Wear Expensive Jewelry
Real estate agents should never wear expensive jewelry while meeting with clients. This means not wearing necklaces, rings, or bracelets that are worth a lot of money!
#26 – Do Not Carry a Lot of Money or Valuables
It is important to not carry around a lot of money when going to showing appointments, open houses, or listing presentations. This means keeping your wallet in your front pocket instead of the back and only taking out what you need for paying!
This also means keeping your valuables in a safe or hidden in the car. This includes things like purses, wallets, and anything else that people may try to grab from you!
#27 – Keep Personal Information Private
Realtors should keep their personal information private. This includes not giving out your home address or neighborhood to clients, as well as making sure that you only give them the information that they need about yourself!
This also includes posting on social media and giving out your location and address. While it may be tempting to live stream from your open house, it is important to not give out your location to the general public on social media especially while you are alone.
#28 – Don't Advertise a Listing as "Vacant"
Don't advertise a listing as vacant or empty in the public listing description. This can make it easy for thieves to know exactly which homes to target for possible robberies.
Some criminals like to target vacant homes because there's less chance of seeing another person inside. Always be extremely cautious if a buyer asks specifically if the home is vacant or requests only to tour vacant homes.
#29 – Do Not Display Cash or Valuables Around the House
Another realtor safety tip for real estate agents to remember is to ask sellers not display cash or other valuables around the house.
The real estate agent should ask the sellers to hide anything valuable in a safe place, which can be hidden from plain sight!
This can prevent robbers from seeing anything they'd want to steal, and it will also dissuade them from attempting a break-in since they won't know if anything valuable is inside.
#30 – Sellers Should Safeguard Prescription Medications
According to the 2020 National Association of Realtors Member Safety Report, 4% of real estate agents reported the theft of prescription drugs from an open house or showing. However, of those who reported the theft of prescription drugs – a whopping 49% reported that the theft was of an opioid class.
It would be wise for the real estate agent to advise the seller to safeguard all prescription medications and keep them out of sight and unreachable at all times.
#31 – When In Doubt, Call Law Enforcement
If you are unsure about something or feel unsafe, call law enforcement immediately. This can help to keep yourself safe in all situations!
#32 – Take A Realtor Safety Course
The National Association of Realtors currently offers a Realtor Safety Course to brokerages! To find out more about it and the realtor safety tips included go to: About the Putting REALTOR® Safety First Course
Their website states that the course covers the following realtor safety tips topics:
Risk considerations in the brokerage of real estate
Safety systems and tools
Safety protocol for showing properties and listing appointments
Understanding physical and instinctual response to threats or attacks
Conceal and carry considerations
Data security for your business and your clients
Protecting personal and electronic information
Final Thoughts – Realtor Safety Tips
In order to keep yourself safe as a realtor, it is important to take the right precautions. Many of these realtor safety tips are easy and quick fixes that can make all the difference in your day-to-day life! You may be already familiar with some of these realtor safety tips, but hopefully, you also picked up a few new ideas as well.
We hope you found our article on real estate safety tips informative and learned something new!
If you enjoyed this, share the love!
We hope you found this article about realtor safety tips helpful. If you did, feel free to save it for later by pinning any image in this article to one of your boards on Pinterest!