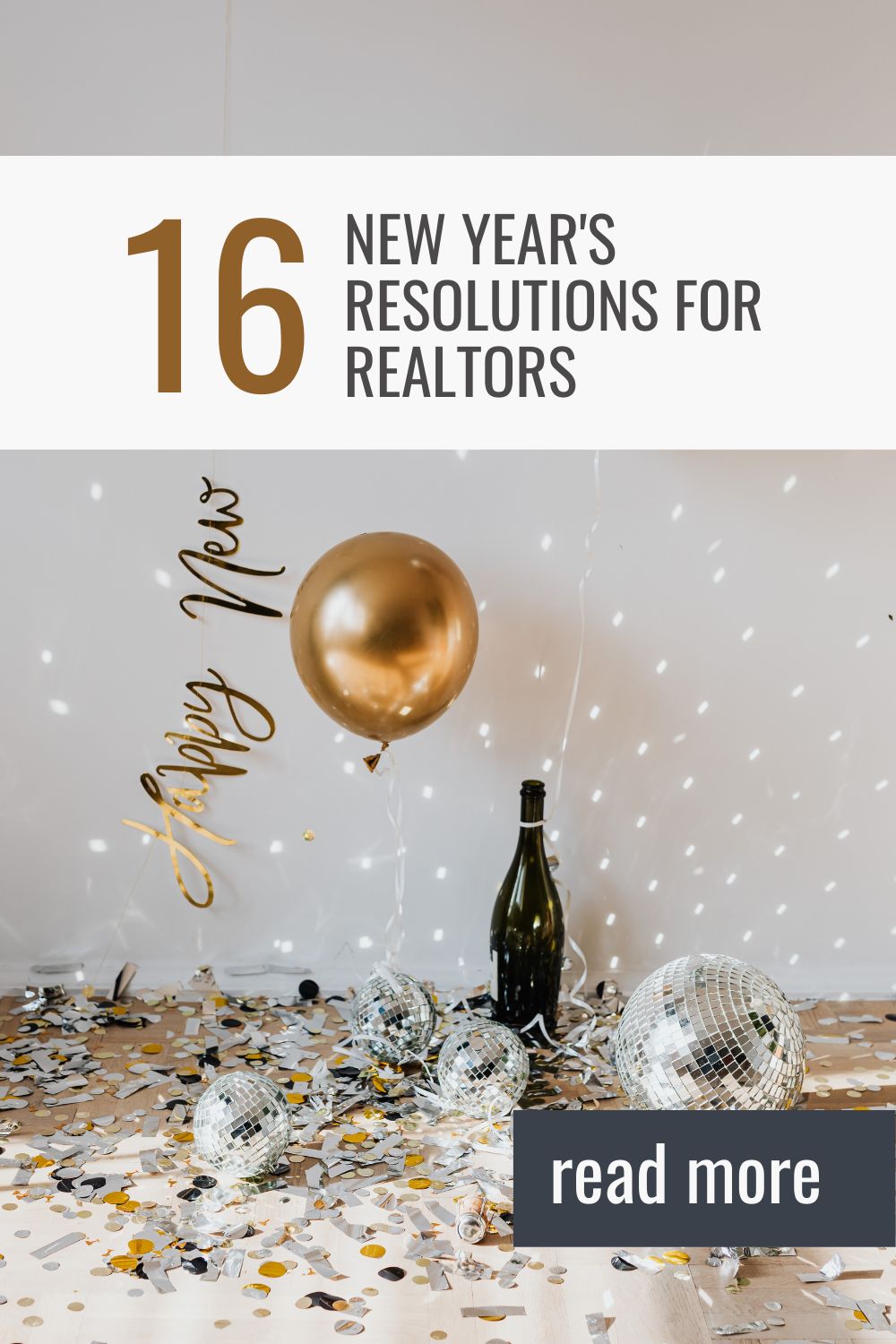 06 Jan

16 AWESOME NEW YEARS RESOLUTIONS FOR REALTORS

The start of a new year is the perfect time for realtors to reflect on the past year and set goals for the year ahead. Here are 16 New Years resolutions for realtors that can help realtors improve their businesses and achieve success in the coming year:
16 NEW YEARS RESOLUTIONS FOR REALTORS
#1: Set clear, measurable goals:
It's important to have a clear idea of what you want to achieve in the coming year. This could be a specific number of sales, a certain income level, or even a personal development goal, like earning a new certification.
For example, you might decide to increase your sales by 20% in the coming year, or take a course on how to better understand and negotiate complex contracts. Setting clear, measurable goals helps ensure that you stay focused and motivated throughout the year.
#2 Stay up-to-date on industry trends:
The real estate industry is constantly evolving, and it's important to stay on top of the latest trends and changes. This could mean attending industry conferences, reading trade publications, or joining a local real estate association.
Some popular conferences include the National Association of Realtors Annual Conference, Real Estate Connect, and SALT Conference. Taking time to stay informed will help you gain insight into the industry and make sure that your business remains competitive.
#3 Improve your marketing efforts:
Marketing is an essential part of a successful real estate business, and there are always new ways to reach potential clients. Consider investing in a professional website, starting a social media presence, or experimenting with new advertising channels.
Pro tip: Use Agent Crate's marketing tools to create beautiful, branded marketing materials that make your business stand out.
#4 Build your network:
Networking is key in the real estate industry, and it's important to continually expand your network of contacts. This could mean joining a local networking group, attending industry events, or even just reaching out to other realtors in your area.
Make a goal to attend at least one networking event each month and start conversations with people in the industry. This could lead to referrals, joint ventures, or even strategic partnerships.
#5 Get organized:
A disorganized real estate business can lead to missed opportunities and lost revenue. Make a commitment to get organized in the coming year by using tools like task lists, calendars, and project management software.
#6 Learn new skills:
There is always something new to learn in the real estate industry, whether it's a new technology, marketing techniques, or legal updates. Make a commitment to continuous learning and growing in your career.
For example, you could sign up for a class on negotiation skills or join an online community to exchange ideas and best practices with other realtors. Learning new skills and keeping up-to-date will help you stay ahead of the competition.
#7 Focus on customer service:
Providing excellent customer service can set you apart from other realtors and help you build a loyal client base. Make a conscious effort to go above and beyond for your clients in the coming year.
Some ideas might include holding regular open houses, creating client appreciation events, or offering personalized services like home staging consultations. Taking the time to really engage with clients will make them feel valued and appreciated.
#8 Build a referral network:
Referrals are a crucial part of any real estate business, and it's important to consistently cultivate relationships with other professionals who can refer business your way. This could include mortgage lenders, attorneys, and home inspectors.
You can start by attending industry events and making connections with other professionals or finding new connections on Linkedin. Then, reach out periodically to build relationships and ensure that they are familiar with the services you offer. This can help you increase your referrals and grow your business.
#9 Invest in yourself:
As a realtor, you are your own brand, and it's important to invest in your personal and professional development. This could mean taking a class or workshop, hiring a coach, or simply setting aside time for self-care.
#10 Get involved in your community:
Building relationships in your local community can lead to new business opportunities and help you gain a reputation as a trusted resource. Consider volunteering your time, joining a local business group, or hosting events in your community.
Some popular ideas include sponsoring a local sports team, hosting a charity event, or supporting an organization that is important to you. This can help you make valuable connections and get your name out in the community.
#12 Use technology to your advantage:
Technology has transformed the real estate industry, and it's important to take advantage of tools that can make your job easier and more efficient. This could include real estate-specific software, social media platforms, or even just a smartphone with a good camera for taking listing photos.
Pro tip: Agent Crate offers a range of real estate-specific tools that can help level up your social media strategy and make better use of your time.
#13 Diversify your income streams:
Depending on just one source of income can be risky in any industry, and it's important to have a diverse range of sources in real estate as well. Consider adding rental properties to your portfolio, or finding ways to generate passive income through real estate investments.
You may even consider starting a team as a way to diversify your income and scale your business. By having multiple streams of income, you can ensure that your business stays profitable even in a down market.
#14 Stay healthy:
A healthy body and mind are essential for a successful career in real estate. Make a commitment to taking care of yourself in the coming year by exercising regularly, eating well, and getting enough sleep.
#15 Set boundaries:
It can be easy to get overwhelmed as a realtor, with long work hours and a continuous flow of client demands. However, it's important to set boundaries to protect your time and energy. This could mean setting limits on your availability, delegating tasks to a team or assistant, or simply taking time for yourself to recharge.
For example, you could establish and enforce office hours to ensure that you still have time for other activities or hobbies. Setting boundaries will allow you to stay focused, productive, and successful in the long term.
#16 Seek out new business opportunities:
Finally, make a commitment to always be on the lookout for new business opportunities. This could mean expanding into new markets, trying out new marketing strategies, or simply being open to new ideas and approaches.
Final Thoughts
In summary, these 16 New Year's resolutions can help realtors improve their businesses and achieve success in the coming year. By setting clear goals, staying up-to-date on industry trends, and investing in personal and professional development, realtors can position themselves for success in the year ahead.
PIN THIS: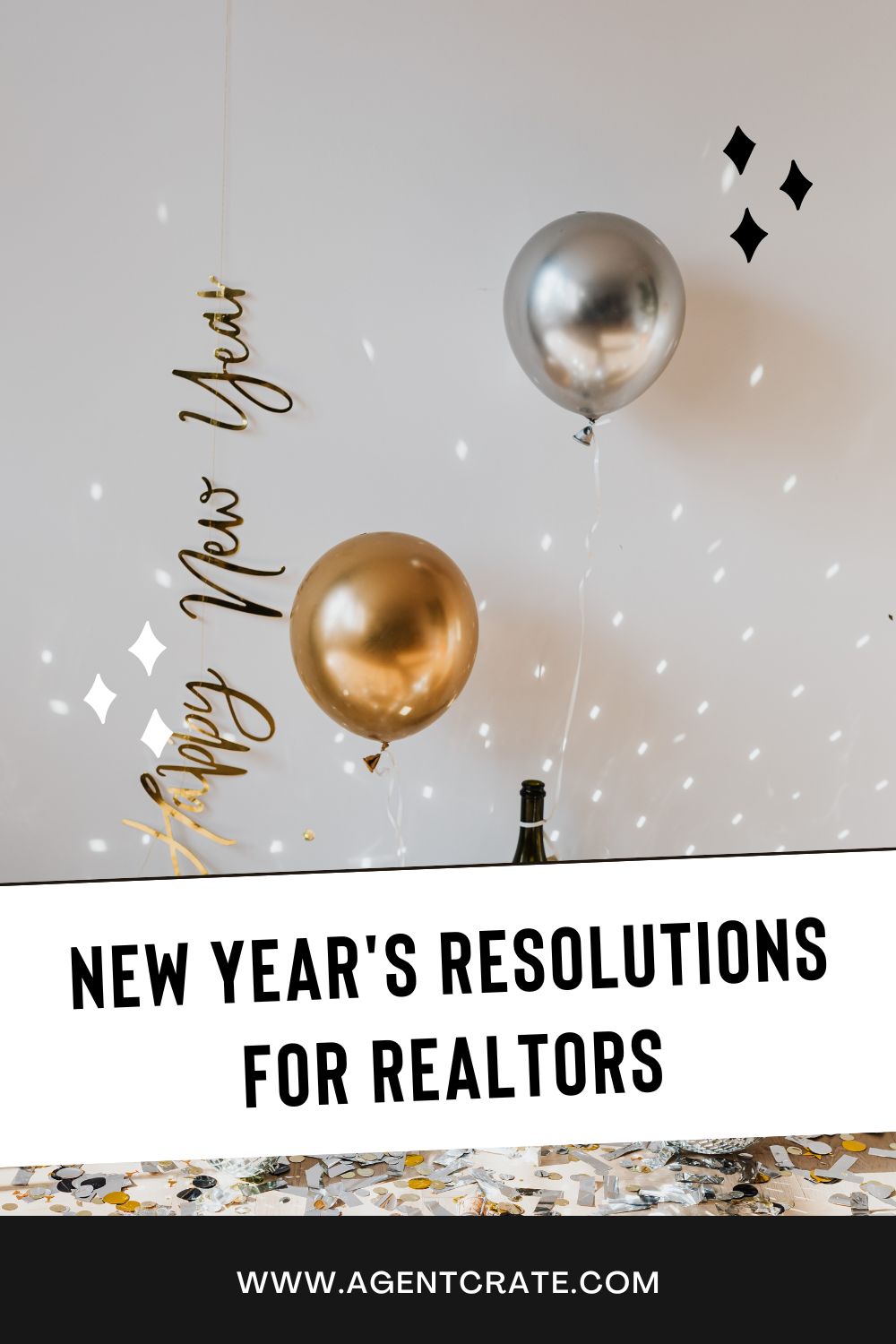 P.S. If you're ready to bring your real estate marketing to the next level and attract your ideal real estate client , be sure to check out our REAL ESTATE MARKETING PLANS to save you tons of time on your social media marketing!
Did you enjoy this article? You might also enjoy reading our articles about: