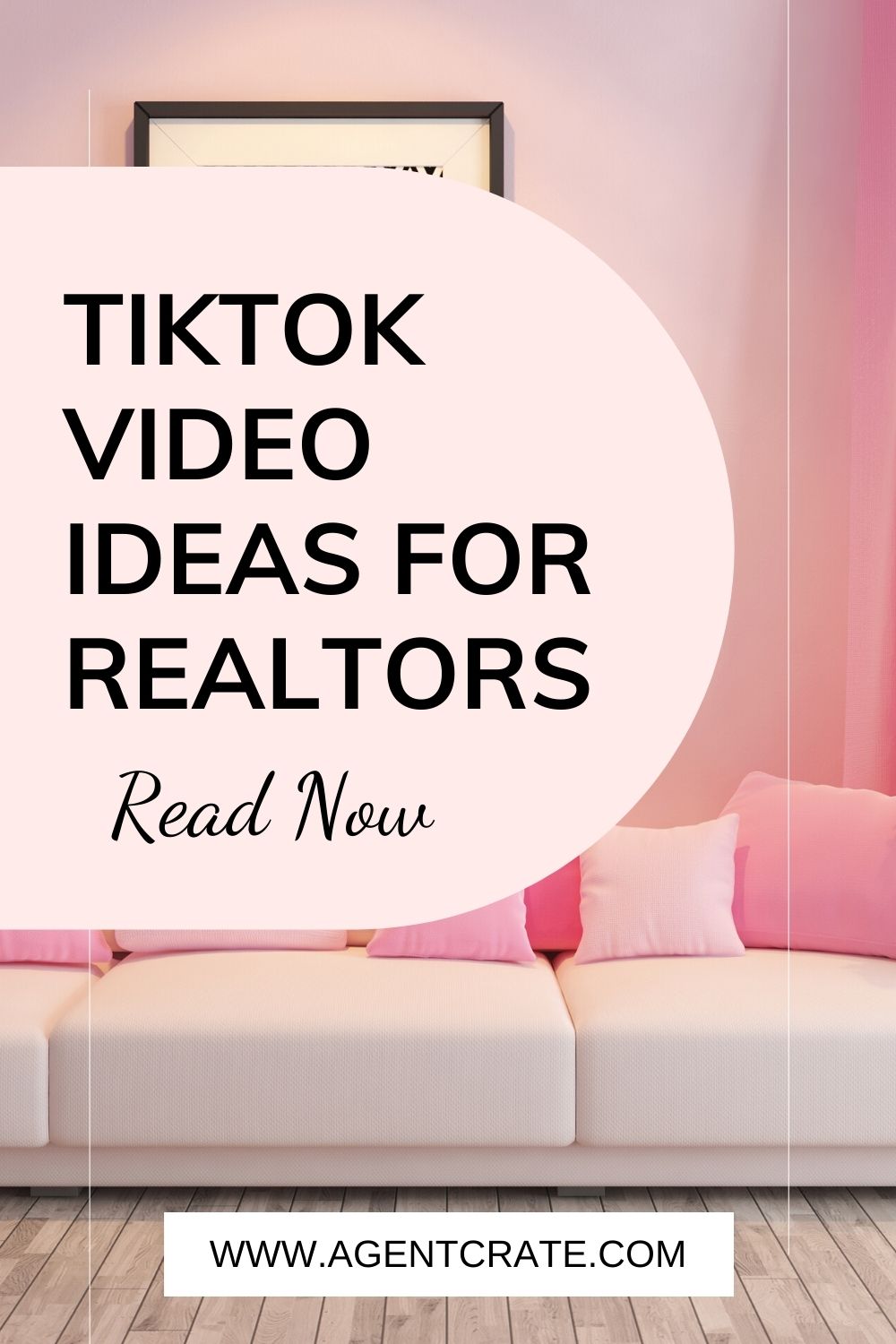 28 Jan

16 EASY TIKTOK VIDEO IDEAS FOR REALTORS

Every day, millions of TikTok users are uploading videos for the world to watch. Instead of just being yet another person joining in on the fun, why not put your real estate expertise into action? This list will provide you with great ideas for TikTok video ideas for realtors.
TOP TIKTOK VIDEO IDEAS FOR REALTORS
#1: Tour a Home
The simplest, yet most effective way to use TikTok is to take a tour of a space. To make your video stand out, try partnering with the homeowner or another real estate agent to show off the digs. You could even create multiple videos from one house-such as during different seasons or times of day!
#2: Use Special Effects to Display Your Space
Who says you can't use the same types of effects that TikTok users are already using in their videos? Try adding filters, slow motion, and other effects to make your space look like an entirely different place. You could even try adding stickers! This is a great way for potential buyers to envision themselves in a space.
#3: Show Your Home from a New Perspective
People often forget that the house they're picturing is just one of many available on the market. Try using your favorite selfie stick or drone to show how expansive and detailed your home is and might not even be visible from the street! A new perspective could even help your home stand out from the hundreds of others.
#4: Host a Competition or Contest
TikTok is packed with people using immersive, interactive features to show off their space. Rather than just being another face in the crowd, try creating a contest for your followers! Give away great prizes, and you'll be sure to see more activity. Just make sure to always follow rules for giveaways!
#5: Host a Tutorial for Other Agents
If you are an expert in your field, why not use TikTok to teach others what you know? You could create tutorials or even host weekly vlogs! This is a great way to network and show real estate professionals how they can market their own properties.
#6: Treat Your Followers and Instagram Friends to Exclusive Content
Are you in the process of selling a home? Have you partnered with another agent in the future? You could use TikTok to upload exclusive content only available to the people who follow you. This could include a special open house virtual tour of your home, behind-the-scenes videos from showings, or even an exclusive sneak peek!
#7: Show Off Your Pets
Pets are a big part of many TikTok users' lives. Add a little personality by showing off your own four-legged friends! Follows love to see personal content mixed in with real estate content! You could even give your furry friend a cameo in one of your other TikToks!
#8: Document Your Day-to-Day Activities
Think about what you do throughout the course of an average day. Do you regularly meet with clients to show homes? Do you travel to and from work? What about your downtime? What issues happened during the day. TikTok is a great way to provide followers with an inside look at your life.
#9: Create Time-Lapse Videos
Time-lapse videos are one of the most popular types on TikTok, so why not give it a shot? All you need is an app like Lapse It to record footage, and then put together the final product using another video editing app. You could even turn this into a recurring series on your TikTok or Instagram account!
#10: Teach Your Followers Something New
Do you regularly host workshops or seminars for other realtors? Have you gained a lot of knowledge about home restoration, or contemporary decorating trends? You could use TikTok to host weekly sessions and teach your followers something new! This is also a great way to build up excitement around upcoming events.
#11: Host Video Q&As
Come up with a series of questions and pair them with visuals. This could be anything from asking where the best place to host an open house is, to showing off your favorite features in your home. You could even post these videos as part of your weekly vlog!
#12: Show Off Your Workspace
Lots of real estate agents and brokers spend a large portion of their time in their real estate home offices. Why not show what it's like to work where you do? You could upload videos and screenshots of your desk, or even snap photos with coworkers! This is also great for networking and showing off new partnerships.
#13: Talk About Your Favorite Spaces
Do you love a certain room in a home or a popular amenity? Maybe you're proud of how your space is decorated. Why not use TikTok to show it off? You could even pair this with a series of questions and talk about why certain rooms top your list!
#14: Highlight Your Community & Surrounding Area
Do you love where your office is located? What about all of the local amenities and activities? Use TikTok to show off everything that makes your area unique! You could even go live in this one, and answer questions from followers.
#15: Show Off Your Home Decorating Style
Do you have a specific color palette, style, or aesthetic in mind? Use TikTok to document your home improvement projects. You could upload screenshots of your inspiration board, show off the before-and-afters of furniture purchases, or even chat about items that are on your wishlist!
#16: Tour Your Office & Talk About Your Work Ethic
Are you proud of your office? Do you love the people that work with you? Maybe you're even lucky enough to work in an amazing space. Why not take followers on a tour, and show them how much effort goes into what you do?
If you're ever stuck looking for more TikTok video ideas for realtors, check out TikTok's featured #TakeoverTuesday playlist. This is where real estate professionals can upload their own takeover videos! Remember to use hashtags so your followers can easily find new people to follow. Who knows, maybe they'll even inspire their own fan base! Now get started with your first video, and remember to have fun!